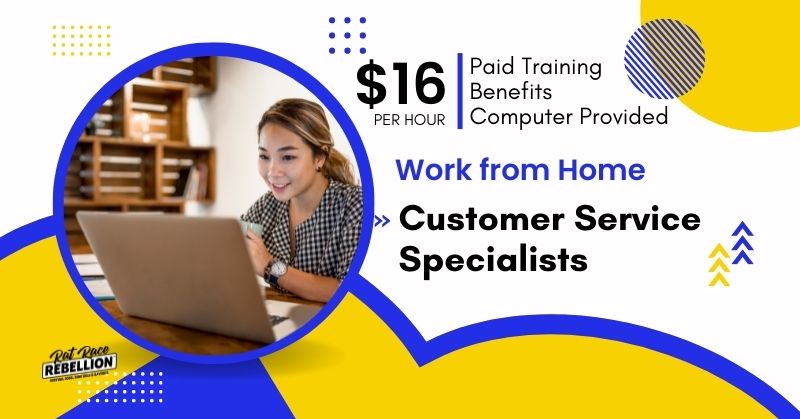 by Chris Durst      Aug. 16, 2022
Apria Healthcare is a large provider of "home healthcare equipment delivery and in-home clinical services for COPD, sleep apnea, diabetes, wound therapy, and more." The company has posted openings for Work from Home Customer Service Specialists.
The pay rate is $16-$16.60 "depending on location."
No state hiring limitations are noted in the listing.
These are full-time positions. A broad benefits package is included.
Here's what the company has to say about the openings:
Apria Healthcare's mission is to improve the quality of life for our patients at home. We are looking for empathetic, thoughtful, and compassionate people, to meet the needs of our patients. Already an industry leader in healthcare services, we provide home respiratory services and select medical equipment to help our patients sleep better, breathe better, heal faster, and thrive longer.
JOB SUMMARY
This position is responsible for receiving and processing customer orders for enteral nutrition (formula, food pumps, feeding tubes and other supplies) in an accurate and timely manner, answering customer inquiries regarding the status of their order and resolving customer complaints.
ESSENTIAL DUTIES AND RESPONSIBILITIES
Handle continuous work volume by interacting with patients and referrals via (inbound & outbound) phone calls, email, fax, chat, text, web inquiries, and other electronic sources
Provide accurate information and updates as related to new orders, resupplies, pickups, and/or exchanges
Demonstrate professionalism and provide high quality service when interacting with patients, caregivers, and/or referrals
Resolves patient/referral complaints and escalations with urgency by the identifying problem, troubleshooting of equipment and/or coordinating appropriate corrective action
Assess patient and referral needs, identify satisfactory resolution, and provide high quality customer service
Comply with and adhere to all regulatory compliance areas, policies and procedures, and best practices
Follow quality program guidelines and procedures for all transactions to ensure that we give the best service to all customers
Performs other duties as required
Minimum Required Qualifications
MINIMUM REQUIRED QUALIFICATIONS
Education and/or Experience
High School Diploma or GED required
1-3 years of Call Center Experience preferred
1-3 Years of Healthcare and/or Health Insurance Customer Service experience preferred
Experience working in remote environment preferred
Certificates, Licenses, Registrations or Professional Designations
N/A
SKILLS, KNOWLEDGE AND ABILITIES
Assess problems & identify solutions
Professional verbal and written communication
Effective listening, paraphrasing, and summarization
Personal accountability and emotional intelligence
Time management and reliability
Computer Skills
Basic skills in using a Windows based computer.
Language Skills
English (reading, writing, verbal)
Mathematical Skills
Basic level mathematical proficiency

PHYSICAL DEMANDS
This is a stationary position that requires frequent sitting or standing, repetitive wrist motions, grasping, speaking, listening, close vision, color vision, and the ability to adjust focus. It also may require occasional lifting, carrying, walking, climbing, kneeling, bending/stooping, twisting, pulling/pushing, walking, bending, stooping, and reaching above the shoulder. Employees in this position must be physically able to efficiently perform the essential functions of the position. Reasonable accommodations will be provided to assist or enable qualified individuals with disabilities to perform the essential functions of the position, upon request.
WORK ENVIRONMENT
Work is performed in an office setting with exposure to moderate noise.
TRAVEL
Occasional travel as required.
OTHER INFORMATION
The essential duties and responsibilities, physical requirements, and work environment described above are representative of those typically required for this position but may vary depending on staffing and business needs at specific locations. The inclusion or omission of a specific duty or physical requirement is, therefore, not determinative of whether that function is essential to a specific individual's position.
Apria Healthcare is committed to hiring veterans and military spouses.
Benefits
Comprehensive benefits package offered for eligible employees:
Competitive salary
Ability to have early access to earned wages
Medical, Dental and Vision
Healthcare Flexible Spending Accounts and Healthcare Savings Accounts
Life, AD&D and Disability Insurance
Paid Time Off, including Vacation, Personal Time, Paid Sick Leave & Paid Holidays
401K Savings Plan (available immediately)
Educational Assistance
Employee Referral Reward Program
Employee Discount Programs
Company Paid Employee Assistance Plan (available immediately)
We recognize our veterans by offering a company paid day off for Veterans Day
Career Advancement/ Development Opportunities
Compensation
Compensation is commensurate with experience
Annual compensation is based on a 40 hour week
Salary range – $16-$16.60 (depending on location)
CLICK HERE for full details and to apply. For more jobs like these, check our Newest Jobs & Gigs page. May you be working from home soon!
PLEASE SHARE this post – turn your friends into Rat Race Rebels!
[social_warfare]