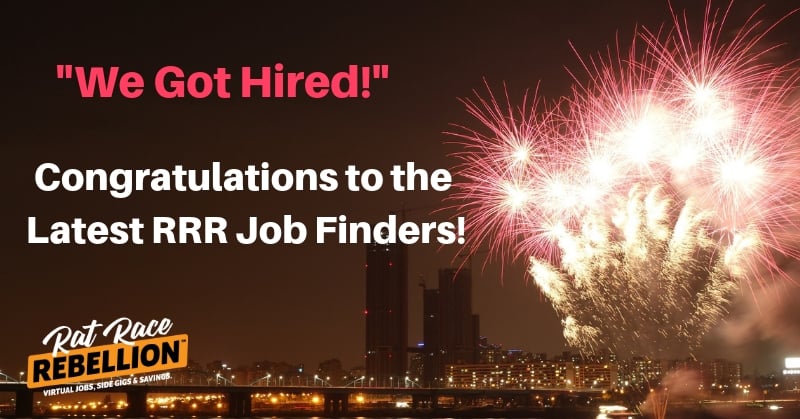 By Mike Haaren & Chris Durst – Founders, Rat Race Rebellion — Aug. 16, 2022
"We Got Hired!" – Congratulations to RRR Job Finders! 
Please join us in congratulating RRR job finders! We've excerpted some of their messages below. We fell behind on our "We Got Hired!" posts, but are catching up now.
Thank you all again for emailing us and posting your wonderful news on our Facebook page! Your messages totally make our day! Thank you for the referrals, too — and the pats on the back! They mean a lot to us here! ~ Chris & Mike 
~*~*~*~*~*~*~
Thank you Rat Race Rebellion! I just accepted my job to work from home for The Hartford! Appreciate all you post to help everyone find great stay at home jobs! – Tara J.
~*~*~*~*~*~*~
Thank you thank you!!! How do you do it? I appreciate your help and support for all of us. I signed up with RRR last week, and got a job the next day. Not just a job, it's a job I always wanted, for 5 years! It was so effortless, I'll make sure I recommend you to everyone. – Lisa A.
~*~*~*~*~*~*~
I would love to say thanks to the creators of this page. It helped me stay on track and I have just been hired at Braun Research as a W2 employee. – Cynthia G.
~*~*~*~*~*~*~
I just wanted to contact you to thank you for all the hard work that is put into posting job leads & maintaining your website. Due to all the great job leads that are posted daily on your site I was able to find a great job. I just received the news that I am officially an employee of Discover! So, I just wanted to thank you for your help. – Shannon H.
~*~*~*~*~*~*~
Thank you for posting! With your website and notifications I just got hired to a major insurance company!! It comes with my first sign on bonus, full benefits, and a 401k match. I wouldn't have known of it without your site so thank you for my new career!! – Frances
~*~*~*~*~*~*~
I just wanted to shout out a huge "THANK YOU" for all that you guys do! I've been following RRR for several years now, but wasn't necessarily ready to take that next step. I saw the Verizon Remote Inside Sales job post about a month ago and decided to jump on it – and I GOT IT!!! I would've never known they were hiring if I wouldn't have been a subscriber! I'll continue to recommend you to everyone out there looking for a great remote job! – Derek P.
~*~*~*~*~*~*~
I just wanted to let you guys know that I have been using you for years and every work at home job I've ever gotten came from this site. I just want to thank you for having this site up for people who want legit good work at home jobs. I just got hired at another one two weeks ago, Magellan. Much love to the entire staff for the hard work they do to make sure they provide WAH good jobs. – Angel W.
~*~*~*~*~*~*~
I just wanted to say thanks for what you do! I've been hired by Verizon and I start at the end of the month. I'm so grateful to have this opportunity to work from home and it's you guys who gave me the lead to get there! – Mindy B.
~*~*~*~*~*~*~
Thank you! I have been approved to be a captioner for REV, which I found through RRR. Appreciate all you do — you're helping many people. – J. Miller
~*~*~*~*~*~*~
Just a thank you! I was hired for Working Solutions last month but felt the position was not a good fit at this time. I also applied to Blooms Today, did the onboarding on Friday and hope to start training this Saturday after the background check. I am so grateful for your hard work! – Tanya W.
~*~*~*~*~*~*~
I got the Job!!!! I applied for a position with Progressive Insurance and I accepted an offer. Starting salary for the position is higher than my two previous jobs.. You guys Rock!! Appreciate you RRR!!! – Michelle
~*~*~*~*~*~*~
I was hired by Amazon, a HUGE thanks to you guys @ Rat Race Rebellion! – Kiairah P.
~*~*~*~*~*~*~
I just wanted to let you know that I got a job with Amazon after applying two other times. I am a work from home Customer Service Associate and I am so thankful. I finished training this week and want to thank you for your newsletter.  I know acting quickly helped me secure a position with the company. – Lisa H.
~*~*~*~*~*~*~
Thank you so much for what you do! I've been hired by Lionbridge as an Evaluator! Couldn't have done it without the help of Rat Race Rebellion! – Ellen S.
~*~*~*~*~*~*~
You listed a job opening for Time ETC and I applied and am working with them now! It has been a wonderful experience especially during this time. Thank you so much for your site, it has truly changed my life!!! – Jessica A.
~*~*~*~*~*~*~
I got hired at Williams-Sonoma!!!!!!! I am so excited!!!! This is the first W@H job for me!!!!! It was very much needed… I could no longer do my job as a shopper for Instacart due to having an asthmatic son. I am so excited!!!!!! I start training Monday!!!!!!!!!!! – Jennifer M. 
~*~*~*~*~*~*~
I got hired at Amazon! – Dawn G.
~*~*~*~*~*~*~
Got hired at NexRep!!! Thanks guys y'all are the very best!!! – Noel B.
~*~*~*~*~*~*~
NexRep hired me and within a week of doing the application I got hired and started this week!! Thank you so much!! After going on maternity leave last year I've gone to several sites looking for remote work for a whole year! You're the only company that provides so many opportunities!!! Thank you so much! – Jasiri S. 
~*~*~*~*~*~*~
I just wanted to thank you for all that you do! I just was hired by Sutherland… THANK YOU for all that you do to help people end the commute! – KS
~*~*~*~*~*~*~
Thanks so much! I got hired for a higher position that I applied for with BroadPath! I recommend you all the time! Thanks again. – Candace B.
~*~*~*~*~*~*~
I just wanted to THANK YOU GUYS!! I just received my official offer letter from KellyConnect for a full time Chat Advisor position…
You guys are AWESOME! I can't even express how thankful I am for your website and emails. I am always telling people about Rat Race Rebellion and raving about all of the jobs you connect people with. I found my previous job through you guys… 
Without rambling on too much, THANK YOU!! – June H.
~*~*~*~*~*~*~
I got the job with Amazon! Training is a week for my group… Pay is $15… OT is paid 2x instead of 1x! – Yolie B.
~*~*~*~*~*~*~
Thanks Mike and Chris, got two jobs going the same month – ACD and Direct Interactions… so I am blessed. – James K
~*~*~*~*~*~*~
I was finally offered a position with Amazon… Thank you RRR so much for posting these positions. I'm so happy and excited😊 – Simone L
~*~*~*~*~*~*~
I saw the Amazon post and applied. After my first try, I got offered a position this week. I missed more than 3 chances of applying for being too late. Now, I am able to pick my own schedule of those available. 8-5 with Fri/Sat off while my future middle schooler has 8-4:30 with the bus. I couldn't ask for a better opportunity… They might call it seasonal but many have become permanent. I hope I'll be one of them. If not, back to school I go with savings along the way! 
THANK YOU FOR EXISTING! — Marie J.
~*~*~*~*~*~*~
Thank you RRR, I got hired with Amazon & Conduent! You guys are awesome! – Mia O.
~*~*~*~*~*~*~
I GOT HIRED! At Broadpath Health Solutions… Thanks RRR! – Vida S.
~*~*~*~*~*~*~
I got hired by Amazon! Thanks so much RRR. Good luck everyone. – Steven R.
~*~*~*~*~*~*~
I got a job for customer service through your website!!! I now work for Infocision doing customer service and I have a split shift and I love my job!!! I just thought you needed to hear some praise and good news… Thank you for this website and keep up the good work… Love what you do, and it's not a job it's a career!!! – Tina S. 
~*~*~*~*~*~*~
Whoot! Whoot! Sitel offered me a permanent position as a Coach. Seasonal gigs gave me the experience I needed to become more proficient in my at home environment. Thank you Rat Race Rebellion! – Sherri J.
~*~*~*~*~*~*~
This is an email of "Thanks." I am an Occupational Consultant with my State's Vocational Rehabilitation Office. I assist persons with disabilities with finding employment. Many of my clients are unable to work in a conventional office setting, due to the nature of their disability. Many have great office, phone and/or customer service skills. RRR has been an extremely valuable resource for my wonderful clients who seek work at home… – Tom S.
~*~*~*~*~*~*~
Just wanted to thank you for this service, and let you know that I was hired by TTEC today! – Andrea B.
~*~*~*~*~*~*~
We'll look forward to sharing your "I Got Hired!" news soon! For new work from home leads, see our Newest Jobs & Gigs page. To be the first to hear about gigs like these, like our Facebook page. Good luck in your next work from home steps!
PLEASE SHARE this post – turn your friends into Rat Race Rebels!
[social_warfare]