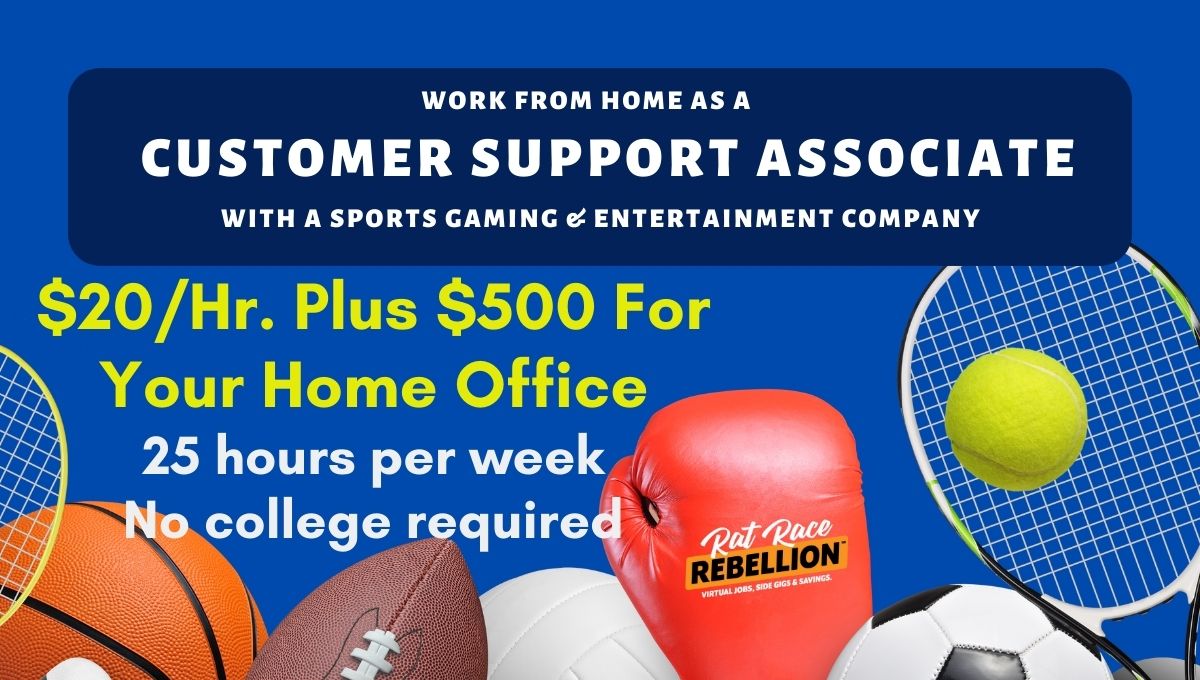 by Chris Durst       Nov. 13, 2023
As we write, this job listing is online and applications appear to be open. But jobs can fill at any time, so apply or share quickly if you're interested! Sorry, but we have no role in the HR processes of other companies. If you encounter difficulties in the application process please contact them directly. Good luck in your hunt, and may you be working from home soon!
Underdog Fantasy, a sports gaming and entertainment company, has posted a part-time, work from home Customer Support Associate listing to their career page.
If you're looking for something part-time, this is a 25-hour per week role.
Their targeted compensation rate for this position is $20 an hour. There's also a $500 home office allowance.
College is not required.
No state hiring exemptions are noted in the job listing.
Here's what the company has posted about the job:
What is Underdog?
Founded in 2020, our team built three of today's most widely played fantasy games and successfully launched the largest contest in the history of fantasy sports: a $15M NFL Best Ball tournament — and there's a lot more to come! Underdog's modern tech environment and in-house product development allow us to continuously deliver the best experiences for our users.
The opportunity in front of us to become the biggest company in our space is massive; after all, we're currently sitting in the fastest-growing consumer industry in the U.S. In just over two years, we reached a nearly $500 million valuation through some of the best investors in the game, including Mark Cuban, Kevin Durant, BlackRock, and SV Angel. We are many times larger now and our growth is not slowing down.
At Underdog, we believe that sports are for everyone and are building a tomorrow for every fan. Want to help create that future? Join us.
Please note, Underdog is a US based company and no sponsorship is available for this position at this time.
About the role and why its unique:
Approach user inquiries with a cool, open-minded approach and make sure that their concerns are being fully heard
Gather information from users in order to efficiently reach solutions by cross-collaborating with teams from several different departments
Create a lasting impression on every user through transparent, open, and honest communication
Assist with account & payment reviews in order to ensure users are appropriately using Underdog as it was intended to be used
Show up everyday with a positive attitude and excited to help the team collectively reach its goals
Deliver exceptional customer support via email, addressing inquiries related to account management and financial transactions
Expertly resolve Pick'em and Draft-related inquiries with precision and efficiency
Offer comprehensive technical assistance to both Web and Mobile app users
Assist in facilitating a smooth and seamless onboarding experience for users, ensuring their successful adoption of the app
Who you are:
Flexible weekday & weekend availability, for a productive 25 hour work week
An optimistic and proactive individual, dedicated to finding solutions
A versatile team player, adept at navigating diverse situations with ease
A clear and concise communicator, with an emphasis on writing skills
A receptive individual who embraces new perspectives and approaches
An insatiably curious learner, driven to acquire new knowledge daily
A customer service expert, delivering exceptional support by showcasing deep product expertise
Proficient multitasker, committed to delivering high-quality work across various tasks
Even better if you have…
Experience with Zendesk (or other ticketing processor systems)
Fantasy Sports and/or Sports Betting knowledge
1-2 years of customer support or related experience
BA/BS from an accredited college or university
Our targeted compensation rate for this position is $20 an hour, depending on experience, plus equity. Think your skills are exceptional and warrant higher pay? Apply anyway! If we agree, we're willing to negotiate.
What we can offer you:
Unlimited PTO (we're extremely flexible with the exception of the first few weeks before & into the NFL season)
16 weeks of fully paid parental leave
Monthly raffle to win a sports ticket reimbursement of up to $500 (including game day snacks)
A $500 home office allowance
Underdog credits to play on our platform
A connected virtual first culture with a highly engaged distributed workforce
5% 401k match, FSA, company paid health, dental, vision plan options for employees and dependents
Still not sure? Don't take our word for it. See what other people have to say.
5.0 rating on Glassdoor and a 100% CEO Approval rating
A+ culture score on Comparably
Recognized as Best Place to Work by Front Office Sports
Recognized by Comparably under the following awards: Best CEOs for Women, Best CEOs for Diversity, Best Company for Career Growth,
Best Company in New York, Best Company Outlook
Underdog Sports is firmly committed to equity, inclusion, and diversity. We built our unique culture on the foundation of a safe and inclusive environment for people of all backgrounds. We highly value our employees' mental, physical, and emotional health and continuously ask ourselves: what can we do better? Underdog is an equal opportunity employer and doesn't discriminate on the basis of creed, race, sexual orientation, gender, age, disability status, or any other defining characteristic.
CLICK HERE for full details and to apply. For more jobs like this, check our Newest Jobs & Gigs page. To be the first to hear about jobs like these, like our Facebook page. Good luck as you make your work from home plans a reality!
PLEASE SHARE this post – turn your friends into Rat Race Rebels!