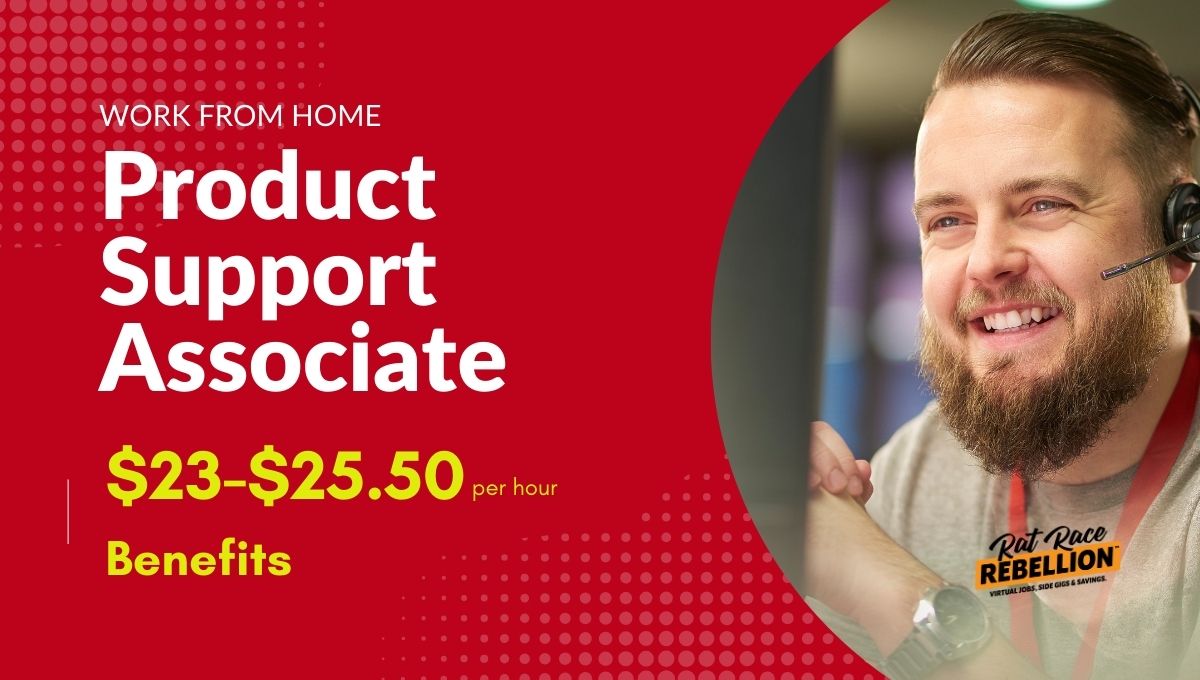 by Chris Durst       Nov. 13, 2023
As we write, this job listing is online and applications appear to be open. But jobs can fill at any time, so apply or share quickly if you're interested! Sorry, but we have no role in the HR processes of other companies. If you encounter difficulties in the application process please contact them directly. Good luck in your hunt, and may you be working from home soon!
Teachable, an online platform for course creators, has posted a work from home Product Support Associate position to their careers page.
In this role, you'll support course creators by providing solutions to customer issues.
The pay range is listed as $23.00 to 25.50 per hour.
Teachable offers a competitive benefits package.
Hiring in the United States – no state hiring exclusions are noted.
Here's what the company has posted about this opportunity:
Teachable is a no-code platform for creators who want to build a more impactful business through courses, coaching, downloadable content, and community. With Teachable, creators can engage their online audiences and get paid—on their own terms. Today, tens of thousands of creators use Teachable to share their knowledge and, to date, have reached more than 46 million students around the world.
Are you ready to join a dynamic, cross-cultural team at an exciting turning point in our company's journey? Now part of the global Hotmart Company portfolio, Teachable continues to take the creator economy by storm as a true industry leader. Together, Teachable and Hotmart are delivering market-leading products that prioritize creator control and flexibility, alongside meaningful partnership and support from our team. If you have big ideas, relish the chance to challenge convention, and deeply believe in the power of creators to shape the future, we want you on our team!
What is the role?
As a Product Support Associate, you will delight our Creators by providing solutions to customer issues, and acting as a liaison between internal teams and customers. You'll be part of a best-in-class support organization that has a unique position in being able to work directly with our Creators and help scaffold their online businesses to new heights.
This is a work-from-home position based in the United States.
What You'll Do:
Provide a world-class customer experience by efficiently and enthusiastically delivering solutions to creators, and empowering them to get the most out of the Teachable platform
Become an expert on the functionality and capabilities of the Teachable platform, and stay up to date on our rapidly evolving product offering
Drive business goals by consistently meeting/exceeding individual and team KPIs, and demonstrating a sense of urgency in communicating with our creators
Collaborate cross-departmentally by reporting customer feedback and insights to our marketing, product and engineering teams
Iterate on our internal team processes as the Teachable product continues to evolve
What We're Looking For:
2+ years providing high-volume email/live chat support, preferably in SaaS
Effective written and verbal communication skills: you are comfortable translating complex concepts to non-technical audiences
Emotional intelligence and an empathetic inclination to understand what the customer is saying versus what they mean
Curiosity for learning – you enjoy taking on new challenges and are able to quickly distill learnings in a fast-paced environment to best support our Creators and teams.
High level of technical aptitude; the ability to pick up new technologies quickly and explain complex concepts simply
Extra Credit:
Working knowledge and experience using helpdesk tools such as Zendesk, Salesforce, Intercom or similar
Prior experience with technical troubleshooting
Passionate about both teaching and learning
Results driven: If you see something that can be done differently, you take action, and advocate on behalf of our creators
Additional Details:
At Teachable, we are committed to providing fair and competitive pay (using market data to inform our pay bands), rewarding high performance, and ensuring all employees have the opportunity and ability to impact Teachable's overall company value. Base salaries will be reviewed at regular intervals throughout the year, typically following performance review cycles currently conducted bi-annually or in conjunction with a promotion.

This role is open to remote candidates in the U.S.
Applicants must be currently authorized to work in the United States on a full-time basis.
This is a full time, non-exempt position.
Our product support team operates seven days a week, 365 days a year, from 8 a.m. to 9 p.m. EST.
Evening, weekend and holiday availability is required. You'll be assigned a specific shift. (8 hours per day / 40 hours per week).
For this role, the hourly range is $23.00 to 25.50. Total compensation also includes a competitive benefits package and Restricted Stock Units (RSUs). A salary offer will be determined by a number of factors including experience, skill level, education, internal pay equity, and other relevant business considerations. We review all teammate pay and compensation programs regularly to ensure competitive and fair pay.
While Teachable maintains our NY office for local employees to use, we operate as a remote-first culture in order to give our employees added flexibility. In order to maintain connection and create a community beyond the screen, Teachable holds in-person events throughout the year, where employees and teams can come together for bonding, strategic alignment, goal-setting, and celebrations!
Teachable encourages individuals from a broad diversity of backgrounds to apply for positions. We are an equal opportunity employer, meaning we're committed to a fair and consistent interview process. Please tell us in your application if you require an accommodation to apply for a job or to perform your job.
CLICK HERE for full details and to apply. For more jobs like this, check our Newest Jobs & Gigs page. To be the first to hear about jobs like these, like our Facebook page. Good luck as you make your work from home plans a reality!
PLEASE SHARE this post – turn your friends into Rat Race Rebels!