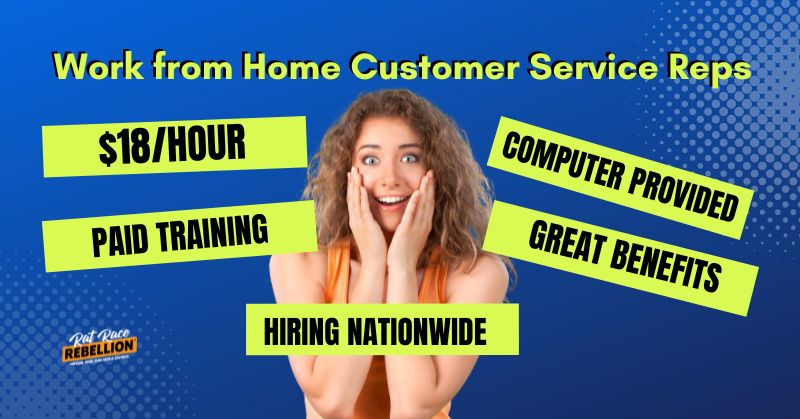 by Chris Durst      Aug. 8, 2022
Guardian, one of the largest mutual insurance companies, has posted openings for Work from Home Customer Care Representatives.
In this role, you will help customers who need a leave of absence, or to answer questions about an existing leave of absence.
Pay starts at $18 per hour, and is available in all US time zones.
The company also offers a comprehensive benefits package.
Training begins Monday, October 3rd.
Here's what the company has posted about this opportunity:
"Training will begin for this class on Monday, October 3rd **
You are compassionate, service-oriented, driven, and have the desire to be part of a growing and innovative team. Joining a company where "People Count" and "We do the Right Thing" are important to you. You love the challenge of thinking on your feet while supporting people who are making major life decisions. You appreciate working with a committed group of colleagues and leaders who are kind and care about one another as well as the health and well-being of our customers and employees. Above all, you're looking for a career where you can use your talents and hard work to deliver service that really matters — to make a difference in people's lives.
Does this sound like you? If so, ReedGroup is the right fit!
As a Customer Care Representative at ReedGroup, you will help people navigate the logistics and real-world concerns of managing their absences from work. This will involve being the first point of contact for customers who need a leave of absence, or to answer questions about an existing leave of absence. Our customers depend on the ReedGroup Customer Care team to serve as subject matter experts on a wide variety of leaves, requiring enhanced knowledge of multiple systems and products. It's challenging work, but we're as committed to your success as you are! You will start your ReedGroup career with a comprehensive training program. Over time, you will have the opportunity to continue to gain knowledge about disability and leave management, in preparation for career advancement within our organization.
Qualified candidates who move forward in the process can expect the following:
An invitation to take a 15-minute candidate assessment will be sent via email though our third-party vendor, Glider. There will be a series of questions related to your experience in handling various customer issue examples, your internet connectivity, and your typing accuracy and speed.
Selected candidates will then be scheduled to interview with the recruiter and then next step the hiring manager via Microsoft Teams video-based interviewing.
You will be asked to provide specific examples of your professional experiences.
Candidates that have been chosen to move forward will be made an offer of employment within one week of the interview, typically in a group setting via
Microsoft Teams. This will foster the same sense of community that you will find in training as well as in your career at ReedGroup.
You are
Dependable, service oriented, honest, compassionate, persistent, and thrive in a working environment where you use your analytical & problem-solving skills to help others
Able to work independently and to adapt to a rapidly changing environment
Excited about learning new things, and able to apply your enhanced knowledge in the service of your customers
Adept at quickly navigating between multiple computer applications within one customer interaction to obtain information and provide correct and concise information back to the customer that combines data retrieved (talk and type)
Very comfortable working with PCs and Microsoft Office, including corresponding functions (copy, cut, paste, toggle). You're able to quickly input and retrieve data while working with the customer on the telephone.
You have
Internet Connectivity Requirement/Remote Positions: For 100% remote positions, we require that (1) you have high-speed broadband cable internet service with minimum upload/download speeds of 200 Mbps/50Mbps and (2) that the equipment supplied by your Internet provider is hardwired to your company issued computer. To confirm whether your Internet system has sufficient speeds, please visit http://www.speedtest.net from your personal computer.
A demonstrated successful work history in customer service, insurance, or related field. Knowledge of Disability Management, FMLA, and Workers Compensation is a plus, and a background in disability insurance or health care is also favorable.
Bilingual (English/Spanish) is a plus
Excellent communication & collaboration skills with strong ability to empathize with customers
Strong attention to detail with critical thinking skills
Demonstrated proficiency with Microsoft Office; your PC skills must include the ability to use dual screens and multiple systems simultaneously (we'll provide the necessary equipment, of course!)
High School Diploma or equivalent is required, bachelor's degree a plus
You will
Engage people who need help with their leaves of absence, using a variety of technologies including inbound and outbound telephone and chat
Continuously strive to provide superior products and customer service, serving callers as a subject matter expert on a variety of leave types
Initiate new leave cases in our system
Make independent complex decisions within the scope of your authority
Demonstrate a high level of confidentiality and professionalism
Express yourself in an open and honest manner
Demonstrate a positive attitude, self-awareness and embrace feedback
Be kind and compassionate
Use productivity and quality data & metrics to achieve superior customer service results
As a condition of employment, you will be required to complete paid training and successfully pass a final course assessment. This training will take place during the first 5-weeks of your employment, and the hours are full time.
Reporting Relationships
As a Customer Care Representative, you will report to a Customer Care Team Leader
Location & Vaccination Requirements
The primary location for this position is remote, with an "at home" work arrangement.
Covid – 19 vaccinations not required unless you voluntarily visit one of our campus locations or are attending an in-person company sponsored event.
Salary Range
Compensation depends on experience, starting at $18 per hour.
Location
This role can be a remote/work from home position located anywhere in the Eastern, Central, Mountain and Pacific time zones.
Travel
There is no travel required for this position.
Our Promise
At ReedGroup, you'll have the support and flexibility to achieve your professional and personal goals. Through skill-building, leadership development and philanthropic opportunities, we provide opportunities to build communities and grow your career, surrounded by diverse colleagues with high ethical standards.
We offer
Career pathing to other roles
401k with company match.
Paid parental leave and backup family care.
Medical, dental, vision plans.
Life and disability insurance.
Paid Time Off.
Wellness discounts.
Tuition assistance.
Work-Life Balance
We recognize the importance of a work life balance. We promote healthy lifestyles and flexible work arrangements for our employees.
Our Promise:
At Guardian, you'll have the support and flexibility to achieve your professional and personal goals. Through skill-building, leadership development and philanthropic opportunities, we provide opportunities to build communities and grow your career, surrounded by diverse colleagues with high ethical standards.
We Offer:
Meaningful and challenging work opportunities to accelerate technology and innovation in a secure and compliant way.
Competitive compensation
Excellent medical, dental, supplemental health, life and vision coverage for you and your dependents with no wait period
Life and disability insurance
A great 401(k) with match
Tuition assistance, paid parental leave and backup family care.
Dynamic, modern work environments that promote collaboration and creativity.
Flexible time off, dress code, and work location policies to balance your work and life in the ways that suit you best.
Social responsibility in all aspects of our work. We volunteer within our local communities, create educational alliances with colleges, drive a variety of initiatives in sustainability, and advocate for diversity & inclusion in all that we do."
CLICK HERE for full details and to apply. For more jobs like these, check our Newest Jobs & Gigs page. To be the first to hear about jobs like these, like our Facebook page and check your feed for our posts. May you be working from home soon!
PLEASE SHARE this post – turn your friends into Rat Race Rebels!