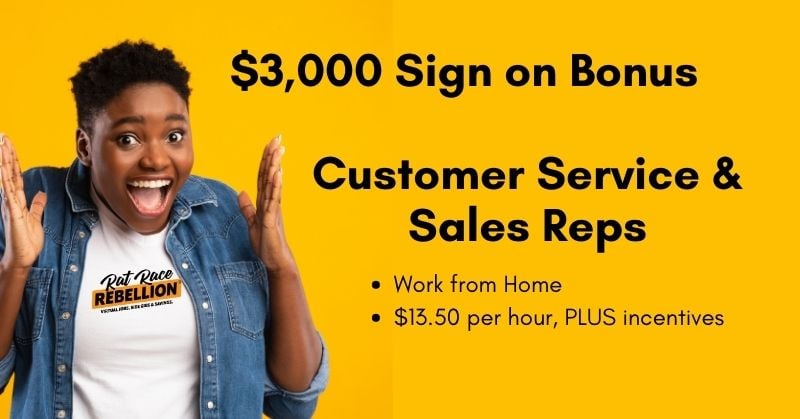 by Chris Durst    Updated Aug. 11, 2021 (Image has not been updated)
$3k sign-on bonus if you begin by Aug. 31. Apply or share now if interested!
Asurion provides insurance for smartphones, tablets, consumer electronics, appliances, satellite receivers and jewelry.
The company has posted openings for work from home Customer Service and Sales Representatives.
Hiring from AL, AK, AZ, AR, FL, GA, ID, IN, IA, KS, KY, LA, MI, MS, MO, MT, NE, NM, NC, ND, OH, OK, SC, SD, TN, TX, UT, VT, VA, WV, WI, WY.
Pay is $16/hr. plus incentives. $3k sign-on bonus. "You must begin by Aug. 31."
Here's what the company has posted about the job:
As a Work From Home Customer Care and Sales Representative, you will maintain exceptional customer service while providing remote support for customers' inquiries about lost or damaged devices and resolving customer issues. You will also be responsible for selling our Connected Home product and other offerings to customers on every call. You will engage with the customer to understand their technology and sell protection/tech support solutions.
You will Serve, Solve and Sell!
Work From Home Customer Care and Sales Representative have a passion for selling services and solving problems!
Accepting candidates in these states: AL, AK, AZ, AR, FL, GA, ID, IN, IA, KS, KY, LA, MI, MS, MO, MT, NE, NM, NC, ND, OH, OK, SC, SD, TN, TX, UT, VT, VA, WV, WI, WY
Hourly rates start at $16.00 per hour plus sales incentives.  
$3K Sign On Bonus as long as you start by 8/31. $1K paid after 30 days, $1K paid after 60 days & $1K paid after 180 days. 
For more than 20 years, we have led the global tech solutions industry. We are leaders in creating innovative technology solutions that help keep consumers connected and we are committed to providing exceptional customer service to our partners – 300 million customers or 120 respected companies whose products you know and love. We don't just redefine – we reinvent.
The only thing we're more passionate about is our people.
At Asurion, we value team success and create a rewarding and collaborative work environment where each employee can maximize their talents and contributions. We provide a fun and casual work environment and comprehensive benefits package that includes medical, dental & vision health coverage, vacation time, holiday pay, 401k plan.
What we require:
High school diploma or GED
Flexibility to work all shifts as required (including evenings, weekends, or holidays)
6 months of previous customer service experience (Call center preferred)
6 months – 1 year of Sales experience
Technical ability to pass our readiness assessment
Willing to submit and pass a pre-employment background investigation and drug screen
Work from Home specific requirements:
A distraction-free workplace that is ergonomically set to meet the company's standards
Must meet minimum internet speed requirements: 10 Mbps download speed / 5 Mbps upload speed
Must have a hard-wired internet connection (Wifi or Hotspots are not allowed)
What skills/interests will make you a great fit for our team:
Patience and outstanding listening skills
Ability to identify, understand and upsell new products and solutions based on customer needs
Dedication to troubleshooting problems and finding a solution
Confidence in multitasking
"Challenge accepted" attitude
CLICK HERE for full details and to apply. For more jobs like these, check our Newest Jobs & Gigs page. May you be working from home soon!