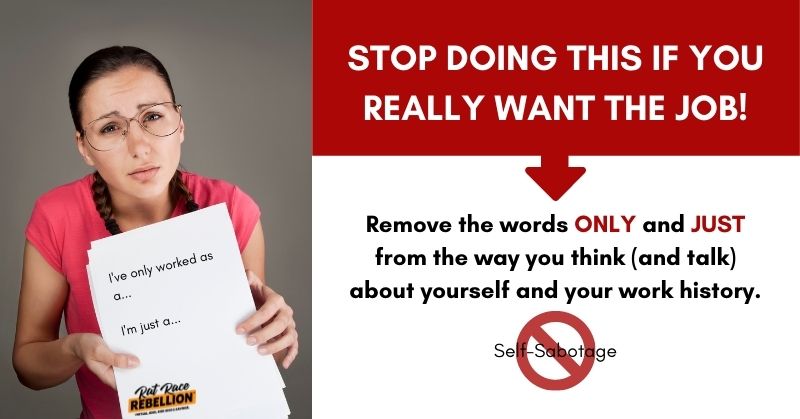 by Chris Durst      June 24, 2021
It's time to leave self-harming, job-blocking thinking behind so you can start fresh in your job search!
With that said, I want you to REMOVE THE WORDS "ONLY" AND "JUST" FROM THE WAY YOU THINK AND SPEAK ABOUT YOUR WORK HISTORY.
I've delivered hundreds of on-site trainings to thousands of people who want to work from home.
In the smaller groups, I'm able to give participants an opportunity to introduce themselves and I prompt them to share a bit about their work experience as well as the type of work they are ultimately looking for.
It breaks my heart a little bit each time I hear someone say the words "only" or "just" when they are telling me about their work history.
"I've only worked as a cashier."
"I'm just a stay-at-home mom."
"I only finished one year of college."
"Right now, I'm just working as… "
Unfortunately, we live in a time and a place where, when you find yourself in a social gathering, someone will almost certainly ask you what you "do."
I personally think the question has no place at a social gathering. It only reinforces the sadly misplaced notion that we are defined by our jobs.
To some people, how you answer that question immediately places you in a "category" in their minds. What's worse though is when YOU JUDGE YOURSELF based on your work experience.
If you find yourself looking down at the floor when you answer the question, or sprinkle in the words "just" and "only" I am going to give you one piece of advice that is imperative to your success as a job seeker.
My advice is this – KNOCK THAT OFF and I mean RIGHT NOW! This mindset can wreck you when it comes to the types of jobs you consider and how you present yourself in cover letters, resumes, and interviews.
Several years ago, I had a woman in one of my classes who said she had, "only been a waitress," in her previous jobs, but she wanted to land a customer service job. First, I cringed and then I had her break down exactly what being a waitress actually entailed – in other words, what were her transferable skills and capabilities. It was an a-ha moment for her when she looked past her job title and focused instead on what she actually "did."
A week later, she emailed me her NEW COVER LETTER and RESUME.
"Dear Sir/Madam,
I was delighted to find your opening for a Customer Care Representative. I've carefully reviewed the job description and requirements, and I feel confident I'd be an ideal fit for this position.
I have more than 9 years of customer service experience and a successful track record of problem solving, communication, up-selling, and doing "whatever it takes" to ensure an exceptional customer experience. My years as a server in the restaurant industry have taught me the significance of clear communications and friendly service with a very diverse customer base.
I am a self-directed worker who functions well both autonomously or as part of a team. My highly-focused and detail-oriented approach to my work will serve me well in this home-based position.
It is with great enthusiasm that I submit this cover letter and resume for your review and consideration. I'd welcome the opportunity to discuss the position and my qualifications to fill the role in person. Thank you for time and consideration. I look forward to hearing from you."
NOTE: In her words, you can feel her confidence in her abilities and her fit for the job shining through. "Only" and "just" have been replaced by an unbiased assessment of her skills and experience.
She carried that new frame of mind through to her new resume as well:
=======
SUMMARY
Enthusiastic bilingual (Spanish-English) worker with an exceptional work ethic and a dedication to positive customer experience. High energy and the ability to stay positive and focused in high-volume work situations.
HIGHLIGHTS
Works well under pressure
Comfortable "upselling" when warranted
Responsible and reliable
Able to navigate customers' moods, behaviors and agendas with a smile
Exceptional interpersonal skills
Upbeat, friendly, and positive
Self-motivated
Thoroughly learns product line and is able to discuss with accuracy
EXPERIENCE
02/2013 to present       Server / Customer Care – Restaurant Name – City, State
09/2009 to 02/2013    Server / Customer Care – Restaurant Name – City, State
04/2007 to 09/2009    Server / Customer Care – Restaurant Name – City, State
DUTIES & ACCOMPLISHMENTS
Delivered exceptional, friendly service
Answered customer questions and made recommendations
Accurately recorded orders and partnered with team members to serve customers in a manner that exceeded their expectations
Skillfully anticipated and addressed customer needs
Handled cash, credit and debit payments
Managed closing duties including cash reconciliation
Effectively communicated with customers and co-workers
EDUCATION
Hometown High School, City State – 2007
High School Diploma
===============
Note: In her case, since each position was remarkably similar, she elected to include a single "duties and accomplishments" section rather than repeating details for the three jobs she listed. In her case, it worked like a dream — she landed an at-home customer service job in less than a month!!

In the above example, you can see how she embraced her hard-earned skills and showcased them rather than shying away from them. Her cover letter and resume are written with a voice of confidence and self-assurance.
You'll notice that, while she had previously referred to herself as a "waitress," she swapped out that job title for "Server / Customer Care." She told me that this single change made her look at her background in a new light but, beyond that, it also resulted in terms that applicant screening software is more likely to recognize as a good fit for the type of job she was looking for.
Going forward, we encourage you to filter words like ONLY and JUST out of vocabulary when you think and speak about your work history (or yourSELF generally).
YOU'VE GOT THIS, RRRebel!!
For great work from home jobs and gigs, check out our Newest Jobs & Gigs page. May you be working from home soon!
PLEASE SHARE this post – turn your friends into Rat Race Rebels!
[social_warfare]