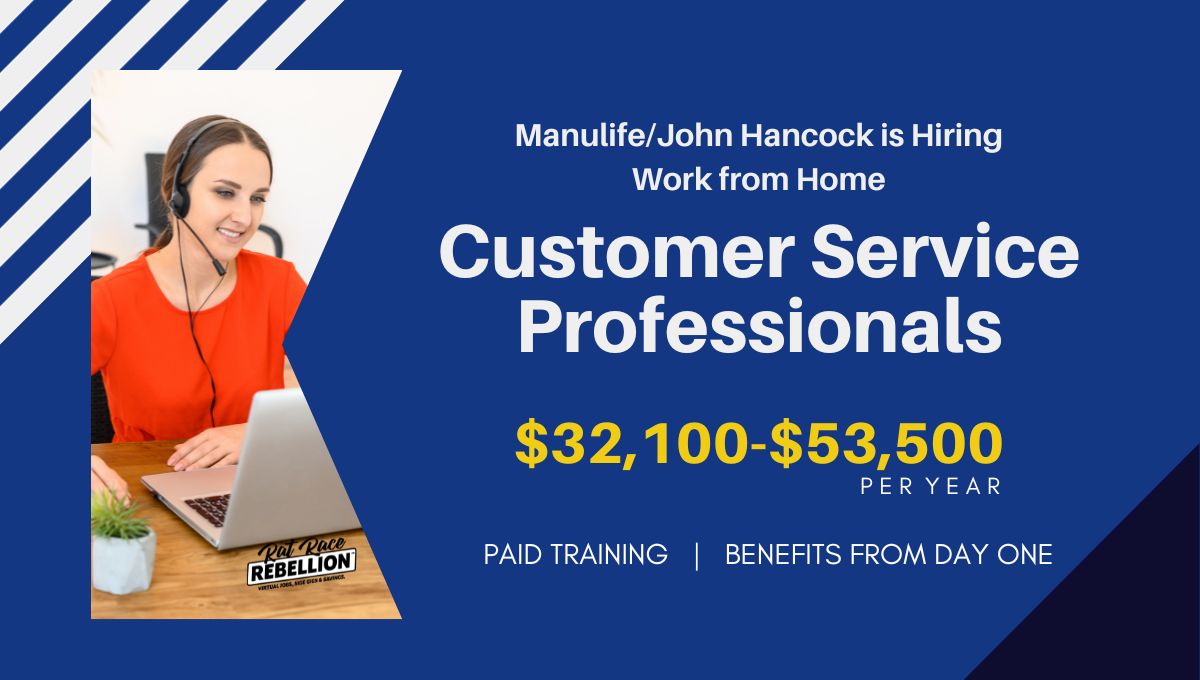 by Chris Durst       Nov. 9, 2023
As we write, this job listing is online and applications appear to be open. But jobs can fill at any time, so apply or share quickly if you're interested! Sorry, but we have no role in the HR processes of other companies. If you encounter difficulties in the application process please contact them directly. Good luck in your hunt, and may you be working from home soon!
These positions may fill fast – apply or share quickly!
Manulife/John Hancock, a large financial services provider, has posted a work from home Customer Service Professional job to their careers page.
The pay range is listed as $32,100-$53,500/yr.
Benefits from day one — Benefits include all of the usual plans, plus 2 weeks paid vacation along with 6 paid personal days and 5 paid sick days.
Paid training.
Here's what the company has posted about the job:
We are a leading financial services provider committed to making decisions easier and lives better for our customers and colleagues around the world. From our environmental initiatives to our community investments, we lead with values throughout our business. To help us stand out, we help you step up, because when colleagues are healthy, respected and meaningfully challenged, we all thrive. Discover how you can grow your career, make impact and drive real change with our Winning Team today.
Working Arrangement
Job Description
Is it possible to find a career you love with a global organization that supports your continued growth and success? ABSOLUTELY! Where do you ask? Look no further than John Hancock!
The Customer Service Professional is responsible for delivering superior customer service to clients and financial advisors and building customer satisfaction and loyalty. Customer requests range from basic product and contract inquiries to more complex transactions and problem resolution.
Key Accountabilities:
Deliver trusted, professional, and reliable service to John Hancock clients and build customer satisfaction and loyalty
Meet quality expectations to ensure a positive client experience
Meet productivity expectations to enhance team service levels
Provide effective and timely resolution of a range of customer inquiries
Strike a positive and cooperative tone with both customers and coworkers
Strive for first-call resolution of customer issues
Translate scenarios that require problem resolution to positive service experiences
Strengthen the perception of John Hancock in the marketplace
Possess the ability to work in a team environment, as well as being able to resolve issues accurately and independently
Complete ongoing training to stay abreast of product, industry, service, and policy changes
Other duties as assigned
Job Requirements:
Post-secondary education or high school diploma
Customer Service or Financial Services experience a plus
ability to thrive in a lively working environment and manage multiple tasks
Outstanding verbal communication skills and strong telephone etiquette
Possess the ability to multi-task
Flexibility and ability to adjust and succeed in a rapidly changing, fast-paced call center environment
Demonstrated problem resolution skills
Effective listening skills
Demonstrated computer efficiency
Outstanding customer service skills
Business writing skills
What we offer:
Competitive base salary and annual performance bonus
Paid Training starting on Day 1
Comprehensive benefits package from Day 1
2 weeks paid vacation along with 6 paid personal days and 5 paid sick days
Online learning programs driven to focus your career development at your own pace
Career growth and leadership support to achieve your goals
At Manulife/John Hancock, we embrace our diversity. We strive to attract, develop and retain a workforce that is as diverse as the customers we serve and to foster an inclusive work environment that embraces the strength of cultures and individuals. We are committed to fair recruitment, retention, advancement and compensation, and we administer all of our practices and programs without discrimination on the basis of race, ancestry, place of origin, colour, ethnic origin, citizenship, religion or religious beliefs, creed, sex (including pregnancy and pregnancy-related conditions), sexual orientation, genetic characteristics, veteran status, gender identity, gender expression, age, marital status, family status, disability, or any other ground protected by applicable law.
It is our priority to remove barriers to provide equal access to employment. A Human Resources representative will work with applicants who request a reasonable accommodation during the application process. All information shared during the accommodation request process will be stored and used in a manner that is consistent with applicable laws and Manulife/John Hancock policies. To request a reasonable accommodation in the application process, contact [email protected].
Salary & Benefits
The annual base salary for this role is listed below.
Primary Location
USA, Massachusetts – Full Time Remote
Salary range is expected to be between
$32,100.00 USD – $53,500.00 USD
If you are applying for this role outside of the primary location, please contact [email protected] for the salary range for your location. The actual salary will vary depending on local market conditions, geography and relevant job-related factors such as knowledge, skills, qualifications, experience, and education/training. Employees also have the opportunity to participate in incentive programs and earn incentive compensation tied to business and individual performance.
Manulife/John Hancock offers eligible employees a wide array of customizable benefits, including health, dental, mental health, vision, short- and long-term disability, life and AD&D insurance coverage, adoption/surrogacy and wellness benefits, and employee/family assistance plans. We also offer eligible employees various retirement savings plans (including pension/401(k) savings plans and a global share ownership plan with employer matching contributions) and financial education and counseling resources. Our generous paid time off program in the U.S. includes up to 11 paid holidays, 3 personal days, 150 hours of vacation, and 40 hours of sick time (or more where required by law) each year, and we offer the full range of statutory leaves of absence.
CLICK HERE for full details and to apply. For more jobs like this, check our Newest Jobs & Gigs page. To be the first to hear about jobs like these, like our Facebook page. Good luck as you make your work from home plans a reality!
PLEASE SHARE this post – turn your friends into Rat Race Rebels!