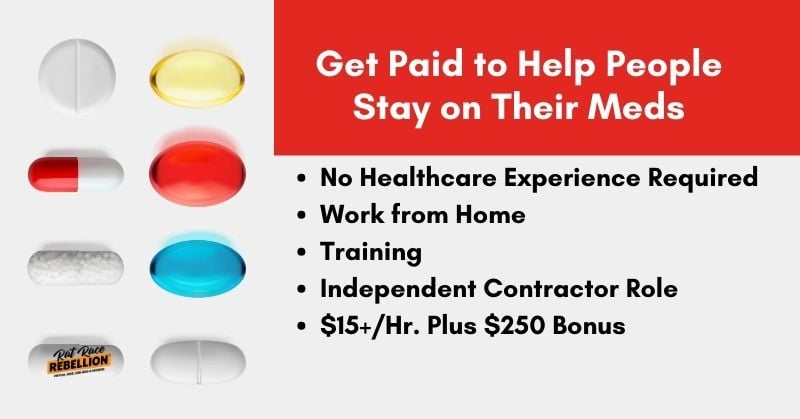 by Mike Haaren        Nov. 9, 2023
If you're looking for a side gig and you like to help people get better, these openings at Pleio might fit. They continue to recruit for their GoodStart Mentor positions.
Per the company, GoodStarters make upwards of $15/hr. Some GoodStarter reviews say average earnings are $20 – $28+/hr., but that's not official. There's also a $250 training bonus after onboarding and a minimum number of hours. The company also offers incentives.
You'd be helping patients get into a good routine with their meds, via phone using a script. No sales or medical experience needed. Workflow may vary, so you should probably view this as side income rather than a main job.
The company may not be hiring from CA, OH, ND, WA and WY. (These states were excluded in earlier listings.)
Not a fit for everybody, but RRRebel Laura T. posted to our FB page, "I worked for them before. Basically calling people about their medicine and reading blurbs about it. Fairly easy gig. I was averaging about $1,000 a month but wasn't pushing a whole lot. Some people did really well." This may not be a typical experience, however, so "your mileage may vary."
Here's what the company has posted about the openings:
GoodStarters are contracted workers for Pleio. They work on an hourly scale and, like other gig economy jobs, the call volumes directly impact how much work is available. There are downtimes, and there are busy times and we do our best to make sure GoodStarters are prepared for both scenarios.
As we continue to build our business, it may require us to adjust scheduled working hours to meet the variability of call volume. There may be periods of peak volume where we ask for an increase in your regular hours worked. Equally, there are times where call volumes fall, and we may ask you to reduce your scheduled hours. Any requested increase or decrease to hours will be temporary and will be communicated in advance notice to any affected GoodStarters.
At Pleio, we keep our GoodStarters at the heart of what we do when meeting business demands.
Our GoodStarters are the best humans on the planet! We ask for a few skills to give them that "it" factor:
2 to 3 years of customer service experience.
Strong verbal communication and interpersonal skills.
Analytical and creative problem-solving abilities.
Proficient decision-making skills.
Intermediate technical skills, including experience with cloud environments.
High school or equivalent (Preferred).
Bilingual in Spanish is a plus!
Benefits of becoming a GoodStarter:
Culture: There is an excellent culture among all the GoodStarters. GoodStarters belong to their own social media chat channel and talk throughout the day, bonding and getting to know each other in a remote environment.
Work from Home: GoodStarters benefit from working from the comfort of their own home.
Flexible Hours: GoodStarters can choose their own hours and even work early mornings, late evenings, and weekends to accommodate their busy lifestyle.
No Selling: Unlike similar jobs, GoodStarters are not required to sell anything over the phone.
No Cold Calling: Because GoodStarters calls in partnership with the patient's pharmacy, no cold calling is involved.
Feel Good by Doing Good: GoodStarters act out the mission of Pleio. They help patients who need support in their health journey. Our GoodStarters love what they do and feel-good coming work each day.
Money: GoodStarters get paid on a sliding scale. The more you work and the more flexible you are (in terms of time of day) – the more opportunity to earn. Pleio offers an hourly activity rate in addition to incentives and performance bonuses to all GoodStarters.
Training Bonus: Pleio offers a training bonus to GoodStarters once they've completed 60 hours of making calls.
Background and Credit Check
Pleio manages sensitive information daily, so privacy is our number one priority. The background screening is mandatory for all our GoodStarters. There is no charge for the background check.
What can cause me to fail the background check? Applicants must pass both parts of the background and credit checks. Applicants with the following elements on their check will not be accepted:
Judgments and Bankruptcy:
a) Two or more open or active civil judgments/ tax liens (open/ active liens).
b) A bankruptcy within a year of this application
Felony Records: Any records with dispositions of guilty, convicted, no contest, adjudication, withheld/deferred adjudication/probation before judgment (if currently under probation), pending, or outstanding warrant, or that have been negotiated down to a misdemeanor.
Misdemeanor Records: If you have 3 or more vehicular records with DUI, Reckless Driving or Hit/Run or 5 or more total misdemeanors, you will not pass. If you have any records involving theft, fraud, dishonesty, breach of trust, arson or violent crimes with dispositions of guilty, convicted, no contest, adjudication withheld/deferred adjudication/probation before judgment (if currently under probation), pending, or outstanding warrant, you will not pass.
As a GoodStarter, you will spend the entirety of your time working on the phone and online. Therefore, it is a necessity that you are able to connect with our patients and our systems without issues or delay. 
Internet Requirements
Minimum 25 Mbps download speed
Minimum 10 Mbps upload speed
Computer Requirements
Laptop, Chromebooks, or desktop computer running Windows 10 or higher (Macs, Netbooks, Tablets, and Smart Phones are not supported)
2GHz processor, or better
Internet Browser – Latest version of Chrome
Minimum Ram – 8GB or higher
The monitor must be capable of displaying 1024 x 768 pixels
Sound card installed and equipped with speakers or headphones
Software Requirements
Virus/Malware protection installed and set to update automatically with real-time scanning
A firewall is installed, and active Security updates are installed and set to automatically update
PDF viewer
Telephone Requirements
Pleio's GoodStart service is delivered through real, live telephone conversations. We want every conversation to be crystal clear and free of interruptions. To qualify to make calls using Pleio's VOIP system, you must meet the following requirements: 
You will need a USB headset with a microphone that plugs into your computer.

Training
We have developed an online learning platform where GoodStarters can learn at their own pace called GoodStartU. All the training you'll need to get started is available. You have control of how fast you get through the training process. The sooner you complete it, the sooner you will be speaking with patients and changing lives. 
Additional certifications and training are offered throughout the year. Every month Pleio offers live webinar sessions with a focus on best practices and keys to success. 
Training is free and there are a wide variety of learning opportunities. The training to certify as a GoodStarter takes 10 – 15 hours on average. Pleio does not compensate for training, but instead offers a $250 bonus to new GoodStarters after meeting a minimum of 60 calling hours within 60 days.
FAQs
Do you charge GoodStarters to use your technology?
No. There is currently no charge to GoodStarters to use our systems.
How often can I apply?
You only need to apply once. We keep your application on file for review if we have a need. Duplicate applications and submissions are not accepted.
Can Pleio terminate my contract?
Because GoodStarters are independent contractors, either party can cancel the contract at any time.  
How many calls will be assigned to me on a weekly basis?
Pleio does not guarantee any minimum call volume. Depending on the number of projects running, there may be times when no calls are in your queue.
CLICK HERE for full details and to apply. For their requirements page, click here. Pay is monthly by direct deposit. For more jobs like these, check our Newest Jobs & Gigs page. To be the first to hear about jobs like these, like our Facebook page and check your feed for our posts. May you be working from home soon!
PLEASE SHARE this post – turn your friends into Rat Race Rebels!