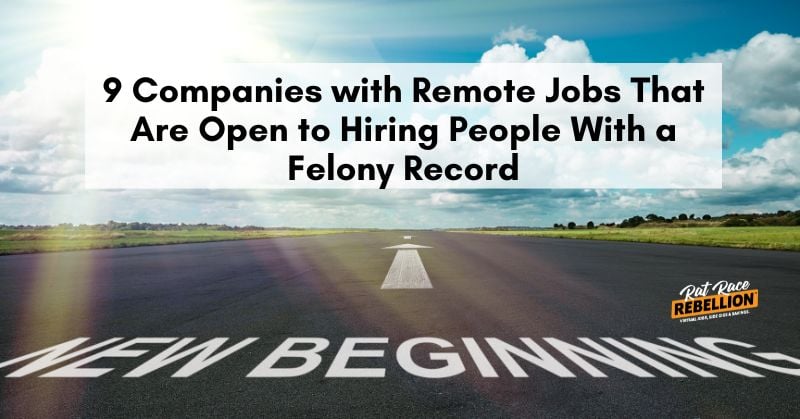 by Laura Durst, Contributor    July 20, 2022
If you or someone you know has struggled to find work as what is often called a "second chance employee" (someone with a criminal record), you'll know how hard it can be to find a company that will offer an interview, let alone hire you.
After some deep dives into online research, we found the following companies with a record of hiring felons in remote positions. Please do keep in mind that, as with all companies, they'll be hiring on a case-by-case basis, so individual results may vary.
We started this process by going into the White House Archives (found here) and taking note of well-known companies who signed the "Fair Chance Business Pledge." Launched in 2016, the pledge comes from company policymakers who commit to offering all applicants, regardless of their history, the chance to be taken into consideration for employment. Given the companies' public stance, this seemed like a good place to start our search.
American Airlines – Examples of Work from Home current opportunities include this home-based customer service position within 75 miles of Miami and this home-based customer service position within 75 miles of Winston Salem, NC – Taken from the statement released to the White House:
American is working hard to recruit, develop, retain and engage the very best people – those with unique perspectives and ways of thinking that will position us as a global leader – while recognizing the importance, in appropriate circumstances, of giving people a second chance.
To ensure we aren't removing qualified individuals from employment consideration, we have banned the box and we don't ask criminal history questions until someone accepts an offer. We are also conducting consistent, reliable, and fair-minded background checks as part of our hiring process.
In other words, you'll be given the opportunity to sell yourself to the company before they see any criminal background. Glassdoor and Indeed reviews indicate that you may want to discuss what will come up on the background check openly upon an offer of employment.
---
Facebook has a vocal stance on hiring remote workers of all backgrounds, including those who might have difficulty passing a background check. At the moment, the remote positions posted for Facebook (now branded Meta) are high-level career paths that are not entry level, but you can familiarize yourself with how to find work from home jobs with Facebook/Meta here. As another company who signed the Fair Chance Business Pledge, Facebook had the following to say:
Facebook is a vocal supporter of equality and we are proud to stand with a growing number of companies who have chosen to ban the box. We strongly oppose hiring practices that discriminate against qualified applicants on the basis of criminal record.
---
Koch Industries – Koch is a vast network of companies and businesses with many remote work from home opportunities. For an example of a sales position open now that is remote, click here. Note that this posting requires only a high school diploma and a history of customer service. As for Koch Industries statement regarding open hires, they say the following:
Koch Industries and Georgia-Pacific support the Fair Chance Business Pledge and applaud the leadership of the White House on this critically important issue. The Pledge is consistent with Koch and Georgia-Pacific's mission to help people improve their lives and remove barriers to opportunity for all Americans, especially the least advantaged.

---
PepsiCo and CocaCola – While both companies do offer remote work, I would like to take a moment to put in a plug for merchandising work with either company. Both companies commit to offering a fair opportunity for employment regardless of background, and merchandising work is often flexible.
As a merchandiser, you might be given access to a company vehicle or use your own to take products to different stores and set up various displays. Schedules can be part or whole time and are often quite independent. For an example of a merchandising job description with PepsiCo in West Virginia (one of the hundreds available on their company site) click here.
---
Prudential – A company of enormous size, Prudential is hiring for customer service professionals who work remotely in 49 states. Click here to see our recent post about these positions. One of the more impressive statements on hiring felons, the company stated the following when signing the Fair Chance Pledge:
Internally, Prudential is committed to inclusive hiring practices when it comes to recruiting and retaining the best talent. We post our open roles publicly and do not inquire about an individual's criminal history until after an offer of employment is extended. If it is revealed that a candidate does have a criminal record, that does not in and of itself necessarily disqualify him/her.
Additionally, Prudential has provided nearly $50 million to support fair chance hiring policies by investing in businesses and organizations who have demonstrated a commitment to inclusive hiring practices. These practices include assisting individuals with criminal backgrounds through workforce training, which includes occupational skills training and workplace soft skills training, so that they can successfully re-enter the workforce.
Again, after reviewing feedback on Indeed and Glassdoor regarding the hiring process, there are strong hints that stating your background as opposed to attempting to hide it once offered employment is key.
---
Under Armour – A company that started in Baltimore, Maryland that focuses on health and well being, Under Armour loudly demonstrates proud in hiring qualified candidates regardless of background or history. If you are a customer service expert with an established history of leadership, they are currently hiring for a Customer Service Supervisor in a remote position here. The company says the following regarding their pledge to hire all qualified candidates:
As leaders in business, we all focus on creating economic opportunity. As leaders in our community, we should also consider how everyone can participate in the opportunities we create.
---
Home Depot – Now that we have worked our way through the companies who signed the Fair Chance Pledge with the White House eight years ago, companies like Home Depot make this list after exhaustive research through Indeed, Glassdoor, and cross referencing this information with businesses who have "banned the box." (Ban the box is a popular term to describe businesses who do not ask if you are a convicted felon upon initial application.)
Home Depot is currently hiring for work at home customer service representatives in many states. You can look to see if your region is among the list by clicking here. As with all companies listed here, it is important to note that while they do not ask for your status regarding criminal background initially, it will be important to be open and honest during an interview. And again, these companies do not guarantee that they will hire – what they do promise is that if you are the right candidate for the job, they will work with you to make it happen.
---
Uhaul – Uhaul consistently makes lists like this for having open policies regarding who they hire (including teenagers ages 16 and up as noted on our previous article here). Like most companies listed here, Uhaul will offer all qualified candidates the opportunity to interview and, like all employers listed here, has a public stance on accepting felons. With Uhaul, the job search database often lists work from home positions according to the region you would be serving and the time zone, so be sure to scroll through postings on your own to find the right fit by clicking here.
---
Honest Jobs – Finally, a plug for Honest Jobs, a job board that does not exclusively post work from home positions, but might serve you well if you are looking for in-person positions that hire felons. A job search database specifically designed by a felon for felon job seekers, this site does a wonderful job filtering through employers and verifying their policies regarding fair chance employment. To visit the site, click here.
---
We hope this list offers some insight as to what to look for in a company as you begin or continue your search. As always, we wish you the best of luck and are continuing to research more opportunities for the future. Keep your eyes peeled for part two!
For more jobs like these, check our Newest Jobs & Gigs page. To be the first to hear about jobs like these, like our Facebook page. Good luck in your work from home plans!
PLEASE SHARE this post – turn your friends into Rat Race Rebels!