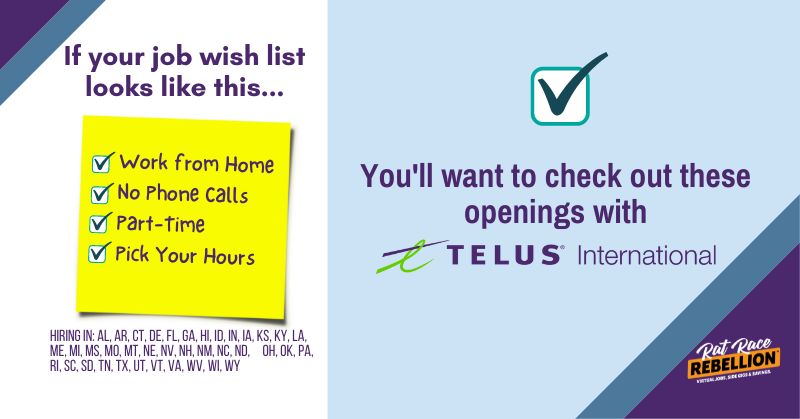 a Sponsored Post by Chris Durst         Mar. 9, 2023
We hear from a lot of people who want to work from home but DO NOT want to talk on the phone.
Well, this just might be the job you're looking for. If you:
Are looking for a part-time job with a self-directed schedule (you pick your hours),
Love to spend time online and are pretty darned good at finding what you're looking for there, and
Hate "bad online search results" that have little or nothing to do with what you were searching for.
Telus International is a reputable company that often posts "non-phone" jobs that can be done remotely. Currently, they're looking for remote Online Raters in the United States. More specifically, they are hiring in the following US states:
Alabama, Arkansas, Connecticut, Delaware, Florida, Georgia, Hawaii, Idaho, Indiana, Iowa, Kansas, Kentucky, Louisiana, Maine, Michigan, Mississippi, Missouri, Montana, Nebraska, Nevada, New Hampshire, New Mexico, North Carolina, North Dakota, Ohio, Oklahoma, Pennsylvania, Rhode Island, South Carolina, South Dakota, Tennessee, Texas, Utah, Vermont, Virginia, West Virginia, Wisconsin, and Wyoming
DON'T LET THE JOB TITLE FOOL YOU! You do not need a degree to qualify for this position.
In fact, the requirements are simply:
High School Diploma or GED Qualification
For cultural awareness purposes you should be living in the United States for the last 5 consecutive years.
And the "Preferred Skills" are:
Active daily user of Gmail, Google+ and other forms of social media including Twitter & Facebook
Familiarity with current and historical business, media, sport, news, social media and cultural affairs in the United State
Experience in use of web browsers to navigate and interact with a variety of content
Click to apply
---
About the Position
Raters analyze and provide feedback on text, web pages, images and other types of information for leading search engines, using an online tool.
You'll do specific online searches then review and rate the results in terms of relevance.
You will log on to the line tool and select tasks that you will perform on a self-directed schedule.
These tasks will generally be performed on a desktop or laptop and also on a smartphone, so you will have to have the appropriate knowledge and equipment, including:
a minimum 12 months experience using Gmail as primary email
daily access to and use of a broadband internet connection to perform the work
an Android smartphone 4.2 or higher or iPhone iOS version 13.0 or higher to perform the work on
Compensation is $14 per hour.
Click to apply
---
About TELUS International
In their own words, "We partner with the world's most innovative companies to develop and improve their AI powered products. Whether it's improving the relevance of search engines or training digital assistants to understand more languages and dialects, our teams help break machine-learning barriers and build human-learning bridges around the world — and you can be part of it.
Telus International offers flexible opportunities with competitive rates across the globe. Learn more at TelusInternational.com
All qualified applicants will receive consideration for employment without regard to race, color, religion, sex, sexual orientation, gender identity, national origin, disability or protected veteran status."
Click to apply
PLEASE SHARE this post – turn your friends into Rat Race Rebels!