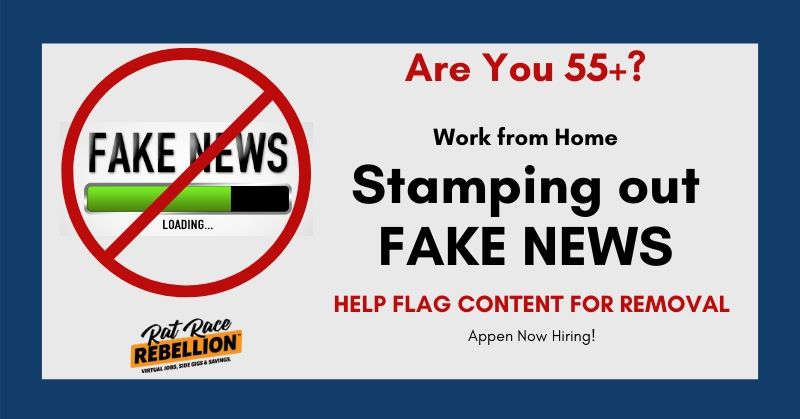 by Chris Durst           June 3, 2020
Appen has immediate work from home opportunities for people age 55+ to help review a variety of online news-related content and assess the accuracy of the information provided. If you are passionate about truth and want to help minimize the harm that comes with the spread of fake news, this is the opportunity for you!
The company says, "As you can imagine, with the arrival of COVID-19, this is especially important now. We need your help!"
There is no information about pay included in their job post. These are independent contractor roles.
Here's what the company has to say about this opportunity:
"About Appen
Appen is a global online work provider that services data projects for some of the biggest tech companies in the world. Appen brings over 20 years of experience in data labeling for speech, text, image, and video. With deep expertise in more than 180 languages and access to a global crowd of over 1 million skilled contractors, Appen partners with technology, automotive, and eCommerce companies — as well as governments worldwide — to help them develop, enhance, and use products that rely on artificial intelligence.
Position Summary
If you're tired of hearing about fake news or have been frustrated because you came across some yourself, then this is your chance to help do something about it. In this role, you will be asked to research and evaluate claims made in various types of social media content (e.g. articles, photos, or videos) and determine whether they are credible or not.
As we work through the challenges of COVID-19, this project is even more important now as we all collectively feel the impact it continues to have in our communities. It is critical that the information available online is as accurate as possible.
You will make evaluations on our client's secure website using your desktop or laptop computer and these evaluations will then help determine whether content will be flagged for removal across a variety of social media sites. This is very important work and we would love your help. Your work will be making the Internet a safer place and lives depend on it.
Responsibilities
Review content. You will be required to rate and comment according to the guidelines.
Maintain quality standards: Adhere to provided guidelines which are always available for your reference.
Time commitment: Minimum of 4 hours per day. However this time can be spread throughout the day and does not need to be consecutive.
Qualifications
An interest in reading online news content
A passion for the truth
Desktop computer with high speed Internet connection
Must pass a 2-3 hour assessment test
Don't worry, we'll provide you all the study materials you need
Perks
Work from home (work wherever you want)
Flexible hours (work whenever you want)
Consistent work (opportunity to work 20+ hours per week)
Quick onboarding (you can start working in less than 48 hours)
How Do I Apply?
[Click the link below to go directly to the Appen site] and create your account with Appen.
You'll be asked to provide some background on yourself
There is a step that requires a resume, but if you don't have one or it is not current, don't worry! Just upload a file with your name on it.
Select the 'All Projects' tab and look for Uolo
Click "Learn More"
Follow the posted instructions"

CLICK HERE for full details and to apply. For more jobs like these, check our Newest Jobs & Gigs page. To be the first to hear about jobs like these, like our Facebook page and check your feed for our posts. May you be working from home soon!
PLEASE SHARE this post – turn your friends into Rat Race Rebels!
[social_warfare]