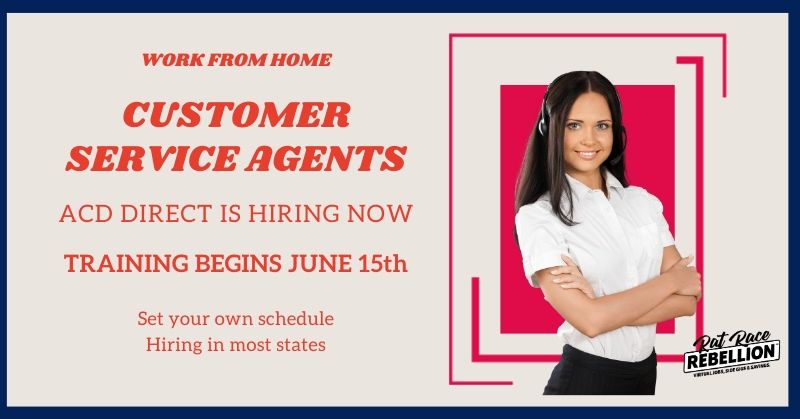 by Chris Durst       June 3, 2020
ACD Direct is actively seeking work from home independent Customer Service Agents — training begins the week of June 15th, so APPLY QUICKLY.
According to the company, they are "seeking experienced, inbound customer service professionals as we prepare for our summer needs (Certification begins the week of June 15th). Historically, we have 5-6 major campaigns each year and are in the process of increasing representatives. Please note that we offer future opportunities for agents who are competitive and active during our initial campaigns. Contract extensions and renewals are awarded accordingly."
Hiring in all states EXCEPT CA, DE, MA, LA, WV, WY, VT, WA, and SD. The company explains, "Unfortunately, due to the residential state laws regarding independent contractor requirements, we do not have opportunities in the above states at this time. You can always check back on our site for any updates for your location."
Here's what the company has posted about this opportunity:
"ACD Direct has immediate openings for driven, energetic, candidates who have an interest in working with nonprofits. Seeking experienced inbound customer service professionals for an annual short-term project beginning immediately — producing a great earning potential for agents and potential for future projects. You will be providing your skills, expertise and services to the clients we represent.
ACD serves as the "front door" to our clients. We go beyond taking a call; we connect with each caller.

Some benefits of working with ACD Direct are:
No upfront fees!
You set and maintain your own schedule
We pay your invoices twice a month
We offer performance incentives, so your hard work and dedication can lead to greater income
Can I choose my own schedule?
Yes, you select and maintain your own schedule from our online scheduling tool. You can select to work the times and days that work with your personal and professional schedule. During campaigns, our highest call volume typically occurs evenings, nights, overnights and weekends – which offers plenty of shift opportunities! While there are no minimum or maximum hours you are required to schedule, ACD does look at agents who have been reliable and consistent in scheduling and call processing when contract renewals and extensions are available.
How much can I earn?
For inbound phone work, ACD agents earn between 25-30 cents ($0.20 – $0.32) per talk time minute. New agents (who have never contracted with us) will start at 25 cents ($0.25) per talk minutes. ACD also offers various bonus incentives for adhering to schedule and average talk time. Aents can earn up to 35 cents ($0.35) per talk minute. We also offer other projects, such as emails, tickets, and chat which pay at different rates.
What types of clients do you service?
Many of our clients are fundraising nonprofit organizations. We handle a wide range of donation contacts and customer service contacts for PBS and NPR stations nationwide, as well as child, veteran, spiritual and pet/animal-friendly organizations.
Does ACD charge any fees?
ACD does NOT require any upfront fees to get started with us. We do have a one-time fee of $30 (discount available for military) for certification and background check. This fee is deducted from your invoice template once you start handling live calls. We will only deduct up to 15% of the pay from each invoice until the full amount of $30 has been satisfied.

CLICK HERE to learn more and to apply. For more jobs and ways to make extra cash, see our Daily Jobs & Gigs page. To be the first to hear about jobs like these, like our Facebook page and check your feed for our posts. May you be working from home soon!
PLEASE SHARE this post – turn your friends into Rat Race Rebels!