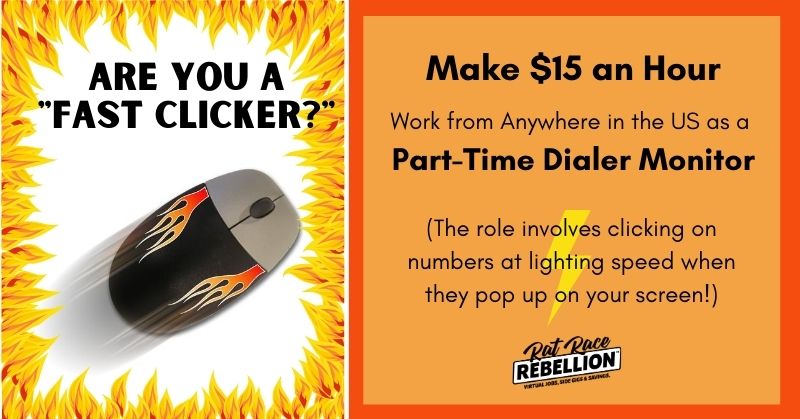 by Chris Durst         Aug. 13, 2020
We just learned about GetThru – makers of ThruTalk and ThruText technology that helps clients to reach people on their cell phones. The company has posted openings for Part-Time Dialer Monitors.
The role involves clicking on numbers at lighting speed when they pop up on your screen, and the company admits that it can get intense. That's why they limit the shifts to two hours.
Work from anywhere in the US that has an excellent internet connection.
Pay is $15/hour a there are some benefits.
NOTE: The company has roots in politics so I'll take this moment to remind all of our readers that this is a job listing, not a political statement. At RRR, we find work from home jobs, we screen work from home jobs, we post work from home jobs… if a particular job is not right for you, there are others that might be a better fit.
Here's what the company has posted about this opportunity:
"GetThru is hiring Dialer Monitors to help administer the backend of the ThruTalk calling platform. This is a part-time, hourly position. Dialer Monitors typically work 2-hour shifts to provide coverage while the dialing service is open for calls. The Dialer has variable hours, but can be open from 10 am Eastern to 9 pm Pacific, 7 days a week. Candidates must be able to work at least 2-weekday shifts and 2-weekend shifts.
Responsibilities
The Dialer Monitor job is done from home. To do the job, you need access to reliable internet, a laptop or a computer, and a mouse. It helps to be tech savvy so you can get into our tools quickly.
During a shift, a number will show on the screen and you need to click it within a half second. Often there a long list of numbers that need to all be clicked in as quick as possible. It is important to be exactly on time so switching shifts goes smoothly and no clicks are missed. You cannot move away from your computer during the shift. It can be a bit intense to click for long periods of time.

Ideal Candidates
Experience with ThruTalk, administering a dialer, or participating in a calling program
A demonstrated interest and/or involvement in progressive politics
Experience or openness to working remotely
Ability to work non-traditional hours that increase around key peak election cycle dates
While experience matters, we also believe that most skills can be learned, and we care as much about work ethic, creativity, determination, and cultural fit.
Location
This is a remote position. You can work from anywhere in the US as long as you are available for your shifts during US hours, have excellent internet, and the work gets done.
Compensation
$15 / hour
Paid sick leave
401k

About GetThru
GetThru operates a peer-to-peer text messaging platform (ThruText) and telephone dialing tool (ThruTalk) that political campaigns and other organizations use for large scale 1-to-1 communication. GetThru has worked with more than 1,000 clients who have sent over 250 million text messages and made more than 60 million calls through our tools. GetThru was launched in 2016 by veterans of the Bernie Sanders distributed organizing team to improve on the tools we used running voter contact programs, and we're most excited about helping progressive politicians and organizations. We also believe in building a sustainable business, so we are actively expanding into other markets that could benefit from this technology, including working with more than 200 educational institutions. We have been profitable from day one without VC funding."
CLICK HERE for full details and to apply. For more jobs like these, check our Newest Jobs & Gigs page. To be the first to hear about jobs like these, like our Facebook page and check your feed for our posts. May you be working from home soon!
PLEASE SHARE this post – turn your friends into Rat Race Rebels!