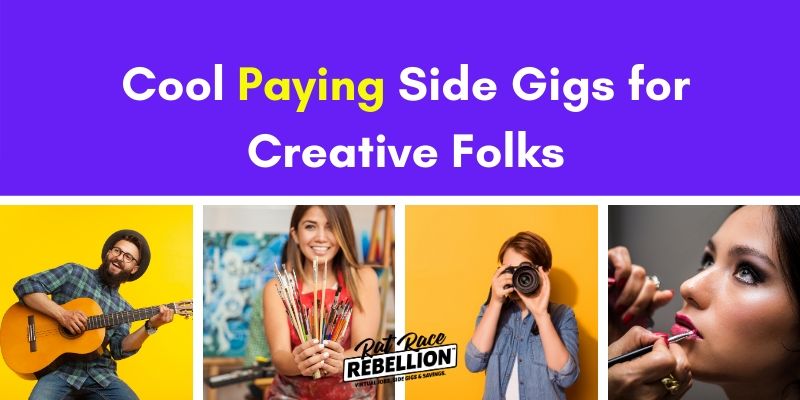 by Chris Durst         Feb. 3, 2020
I'm swimming in the low end of artistic gene pool, but I am always in awe (read that "envious") of the people who are swimming deep end.
Unfortunately, talented as they are, many creative types find themselves unable to find a way to make money with their talents.
We've pulled together a list of some reputable sites that just might help you start generating some income for doing what you love.
> Beauty-Related Creatives <
If people are your palate and hair and makeup are your tools, these gigs might appeal to you.
"beGlammed is the leading on-demand hair and makeup company and now introducing nail services in more than 23 cities across North America that delivers hairstylists and makeup artists directly to our clients' homes, hotels, offices and weddings, uplifting and transforming people's lives through beauty.
You are a talented and professional independent hairstylist, makeup artist or nail technician looking to:
Increase your income doing what you love
Make your own schedule
Have an administrative team handle your billing needs
Be part of a larger stylist community for special product deals
Work in any city that we offer services when you travel
Exclusive learning opportunities from masters in the beauty industry
Showcase your talents with top brands, influencers and celebrities at events"
"As a Glamsquad Beauty Pro you will rely on your expertise as a seasoned professional to give your clients a customized in-home experience, and deliver impeccable hair, makeup and nail services. Through our proprietary Pro App you will be able to set a schedule, receive clients, and even manage your payments.
We've got a Squad from sea to shining sea. Go ahead and sign up if your location isn't listed- we'll be bringing the GLAM to a city near you soon!"
> Performers, Musicians & Theater-Related <
"Find your next theatre job—acting, internships, administrative, design, technical, and all other stage employment—at Playbill.com."
"Lessonface connects students with great teachers for live lessons online. We recognize that great teachers make Lessonface work and have built a system that supports the best teaching talent. We help you keep your own students more supported for the online learning experience so they will come back for more and more lessons, and, for the teachers that we feature, help you amplify your talents to recruit new students."
> Culinary Creatives <
We recently wrote a whole post about gigs for cooks. You can read that post here.
> Visual Artists <
Not so very long ago, having your own line of custom t-shirts meant you had to lay out some serious cash for inventory. You had to purchase shirt and printing on speculation and hope that you could sell them.
Now, with sites like those listed below, you can custom design clothing and other items with your original artwork or slogans, set your price, and get paid when one of your items sells.
"To make your own personalized products visit our Design Your Own section. Select the product you want to personalize and use our designer to upload your own photos and artwork.
You can also design products to sell in a personal shop or in our marketplace and earn money."
"As a Zazzle Designer, you can do what you love without any hassle of fulfilling orders or dealing with customer service. We do that part for you!
Upload and sell your artwork on hundreds of our products for FREE
We manufacture and ship your products with no hassle to you
Set your own royalty rates between 5% and 99%
Reach more than 30 million shoppers worldwide"
"Welcome to Redbubble, a free marketplace that helps thousands of artists reach new audiences and sell their work more easily. RB gives you access to a wide range of high quality products, just waiting for your designs to make them more amazing. We coordinate everything from printing and shipping through to ongoing customer service, giving you more time to focus on creating great art and design (and occasionally watching cat videos on the internet)."
"Our mission is to empower creative expression. We support artists both seasoned and new by providing a marketplace for selling their original work, helping them find their voice and connecting them with fellow artists and customers across the world. If you have art within you, we want you to join Society6. Plain and simple."
> Photographers & Videographers <
"Skyword connects exceptional writers, graphic designers, videographers, photographers, and other creatives with top-tier brands looking to truly connect with their audiences through great storytelling.
We Don't Just Create Content. At Skyword, we are proud to offer opportunities to create work that gets published, seen, and shared around the world."
"Sell event photos the easy way! Snapped4U is for event photography and portrait photography. Customers visit Snapped4U to purchase photos they are in. Travel, landscape, still-life, and stock photos are not for Snapped4U."
PLEASE SHARE this post – turn your friends into Rat Race Rebels!