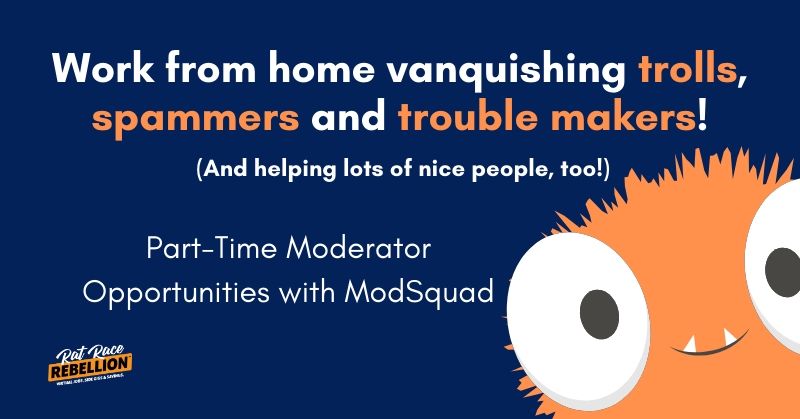 by Chris Durst              Feb. 3, 2020
ModSquad continues to recruit part-time freelance Moderators.
The company provides online Moderators to various clients for forum moderation, customer service, social moderation and the like. This may also involve chat support, ticket escalation or phone support. ModSquad was founded in 2007 and has over 10,000 Moderators ("Mods") in its network.
Here's what ModSquad says about this opportunity:
"Mods are pros in digital engagement: moderating forums, chatting with customers, managing communities, and buzzing in social media. As a Mod in our network, you can work from any private location with secure high-speed internet access. You'll select your projects based on YOUR passions – and schedule when YOU want to deliver.
As a Mod in our network, you'll have the freedom and flexibility of working from any private location, when you want to work.
Control your own journey by being in charge of your own business, selecting your own digital engagement projects.
Get experience working with some of the coolest brands in the world, from gaming to e-commerce to entertainment.
Keep your day job! Our network is teeming with moonlighters, plus enterprising stay-at-home parents, students and retirees.
Our Mods are passionate and absolutely love working with us. Join the movement!
How much can I make as a Mod?
It generally depends on the market's demand for your experience and skills, how much you're able to work, and how well you perform. As you can imagine, Mods with hard-to-find native language abilities or mad tech skills can demand higher hourly rates. Your revenue is completely dependent on your schedule, performance and the type of projects on which you choose to work. The payment structure varies from client to client due to length of project, skillset desired and services needed.
Once I join the network, how long will it take to start work?
We try our best to get new Mods working ASAP, but it's not always possible. It all depends on a few factors:
Matching on an active project that's right for you.
The time it takes for you to complete a contractor agreement and pass a background check.
Any client preparation or orientations necessary to get you and the project up and running.
Besides the opportunity for work and pay, what other benefits do I get from being a Mod?
As a Mod, you'll work with terrific companies on exciting projects and with fun people. You'll get really great experience doing what you love, all on your own terms. While some Mods are happy running their own business forever, others see us as a career path in something else, like digital marketing, e-commerce or the video game industry. That's OK! So many of our alumni have moved on to bigger and better things, and we're always proud of their success when they do. If you want to know why people love being Mods and read up on some Mod success stories, check out the latest posts on social and read our Mod profile stories on our blog."
Click here for full details and to apply. For their FAQ page, click here. BUT PLEASE NOTE – ModSquad's site isn't optimized for all browsers and devices. If you don't see the job listing — or the application buttons at the bottom of the page don't appear — you may want to try with a different browser or device. The last time we posted these openings, some folks were also getting erroneous "Job not active" messages through the "Start Here" button. So you may have to try different approaches. We ourselves have no control over the company's website, though we have notified them of the access issues. May you be working from home soon!
PLEASE SHARE this post – turn your friends into Rat Race Rebels!