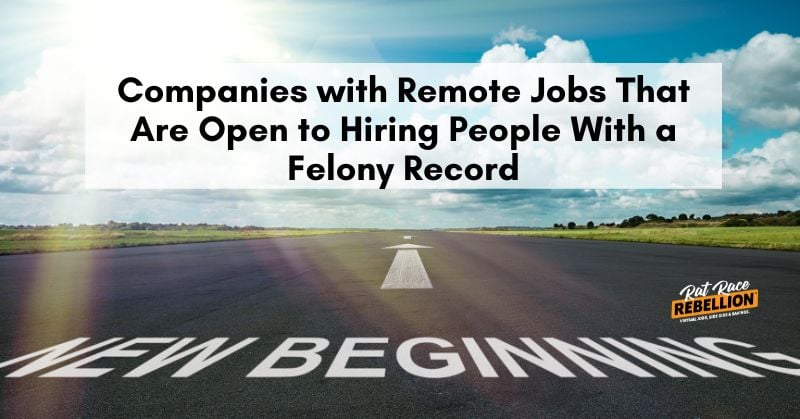 by Christa Barbari   Oct. 19, 2023
As we write, this job listing is online and applications appear to be open. But jobs can fill at any time, so apply or share quickly if you're interested! Sorry, but we have no role in the HR processes of other companies. If you encounter difficulties in the application process please contact them directly. Good luck in your hunt, and may you be working from home soon!
Are you one of the 20 million resilient Americans who've faced the challenges of life with a felony record, or do you know someone who has?
If so, you're likely familiar with the uphill battle when it comes to finding employers who are willing to offer second chances. However, since the inception of the 'Fair Chance Business Pledge' by the White House in 2016, the landscape is gradually changing, giving hope to those in search of a fresh start.
Over the years, this pledge has gained momentum, capturing the attention of businesses across the nation. More and more companies are recognizing the value of providing opportunities to individuals with criminal backgrounds, not just as a matter of social responsibility but also as a strategic move that benefits both their bottom line and society as a whole.
Let's delve deep into the world of companies committed to this pledge, focusing on those that offer remote positions and fields like merchandising and other independent work. Get ready to discover a wealth of remote job options with employers who place a premium on second chances. You don't need a felony record to appreciate the positive changes these companies are bringing to the workplace.
So, whether you're looking for a new career opportunity or simply support the idea of fostering inclusivity and transformation, read on to learn more!
Companies that have committed to the Fair Chance Business Pledge (and hire for some remote roles):
Allstate: A staple in the insurance and finance industry. They hire WFH in a wide variety of customer service and finance roles.
---
American Greetings: Customer service and merchandising
---
Anderson Windows: An international window and door manufacturing enterprise
---
Bed, Bath, Beyond: Hires remotely for customer service, IT, content, and more!
---
Campbell's Soup: MMM..MMM..Good remote jobs!
---
Caterpillar: "At Caterpillar we believe each employee is unique, and that together we are stronger, which is why we are committed to build a more globally diverse workforce reflective of the many communities and customers we serve around the world. We work to create an inclusive environment, because we know employee's who feel respected, listened to and valued will produce the best solutions for our customer's current and future needs."
---
---
Cintas: While Cintas does not hire true WFH many Rat Race Rebels enjoy the open road. Cintas has locations in most of the 48 and Canada and hires delivery drivers and regional sales.
---
Deloitte: Deloitte Touche Tohmatsu Limited is a great lead for developers and other IT professionals. They also have a board for contract opportunities.
---
Dick's: is a supporter of many community and social equality initiatives beyond being a Fair Chance pledge member. "To develop our talent, we strive to create a just, diverse, equal, and inclusive culture that supports and encourages our teammates to bring their whole selves to work. We work hard to keep our teammates safe, healthy, and happy to ensure they can perform at their best. This includes investing in our teammates' growth through a comprehensive benefits package to support health and wellness, meaningful compensation, and a myriad of professional learning opportunities."
---
DropBox: "We believe there's a more enlightened way to work. Dropbox helps people be organized, stay focused, and get in sync with their teams." They do that by hiring and training top-notch customer service and IT professionals remotely.
---
DuPont: has a long history in science and technology. Why should you consider them for your second chance career? "Our purpose is to empower the world with essential innovations to thrive. We work on things that matter!"
---
Epson: is another company that hires for jobs requiring travel and independent work. Join their talent community to receive alerts when positions are open in your area.
---
Fed-Ex: is often rated as a top employer. Fed-Ex also supports initiatives to improve employment for underserved populations. "We will advance entrepreneurship, create employment pathways for underserved populations, enhance sustainable transportation, make roads and pedestrians safer, and use our global network to deliver resources where they are needed most." Follow the career portal as remote listings fill quickly.
---
---
Fuji Film: has both remote and traveling tech positions. Previously Fuji has hired from customer service and finance to project management and development positions.
---
General Electric: and its subsidiaries touch almost all our lives, and they hire remotely. GE offers everything from entry-level customer-facing roles to the highest levels of corporate management. Science to finance they may have the job for you!
---
GM: is another storied American corporation that offers remote work. They do tend to skew to middle career and beyond.
---
Kelly 33: is a division of Kelly Services that caters to second-chance hires and training programs.
---
KOCH: is an umbrella of companies encompassing finance, IT, Science, railways, energy, and more.
---
Kohl's: offers IT, marketing, and customer service roles remotely. "Kohl's has eight Business Resource Groups (BRGs) with more than 7,500 members focused on recognizing and championing diversity and inclusion within the business and communities we live and work."
---
LKQ: is an auto parts group.
---
Motorola: offers many remote careers. Middle-career titles in science and IT seem to be most available.
---
NBC Universal: is currently listing dozens of Remote jobs. Here are some words about their commitment to inclusion. "We need multiple points of view that reflect society's multiple points of views. Our commitment extends to increasing diversity both in front of and behind the cameras. That means being evermore inclusive of diverse audiences, developing content that matters and enhancing the diversity of our own talent. Across all platforms, we're continuing to launch and expand diversely innovative programming."
---
---
Pactiv: offers virtual sales and related positions.
---
Red Robin: the gourmet burger and brews company
---
SONY: hires creatives and visionaries. Here is what they have to say about their work philosophy: "We innovate and encourage our people push themselves and their ideas. Around here, coloring outside the lines isn't just welcome, it's expected.
We inspire everyone around us to learn and grow. After all, if you're not getting better, then neither are we.
We open our minds and our doors to new ways of thinking. Because great ideas can come from anywhere, even if it's not your job."
---
Stanley Black & Decker– "For the builders and protectors, for the makers and explorers, for those shaping and reshaping our world through hard work and inspiration, Stanley Black & Decker provides the tools and innovative solutions you can trust to get the job done—and we have since 1843." See their current openings for more information or submit for a dream position. Watch our video on how to find remote jobs with Stanley Black & Decker.
---
Target can provide leads for marketing, finance, and other remote positions.
---
Total Wine is currently (see date of post, above) looking for Seasonal Customer Service. The call center is open from 9 am to 12 midnight Eastern Standard Time, and shifts may require evenings and weekends. Pay is not mentioned.
---
Under Armour is last but certainly not least on our list today. The call is out for Seasonal Customer Service and corporate roles.
---
For more jobs like this, check our Newest Jobs & Gigs page. To be the first to hear about jobs like these, like our Facebook page. Good luck as you make your work from home plans a reality!
PLEASE SHARE this post – turn your friends into Rat Race Rebels!