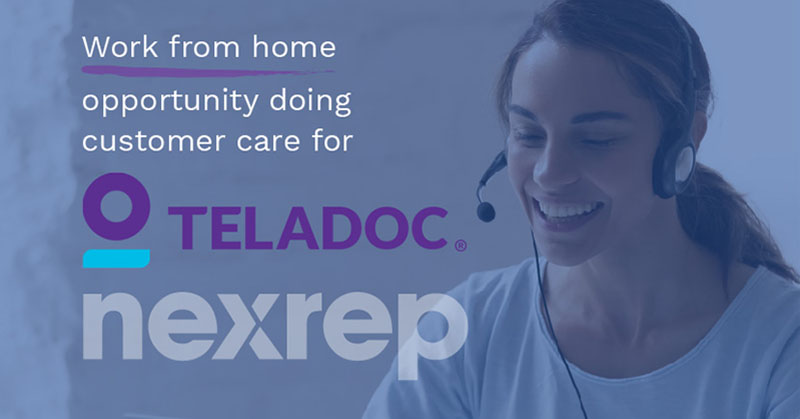 by Chris Durst         Mar. 27, 2020
NexRep, a RRR trusted company, is now working with an exciting new client — Teladoc — and now they need YOU to ensure Teladoc's valued customers get the superior customer service they expect and deserve!
As a 1099 Customer Service Professional, you'll be contracting with NexRep to support Teledoc and help patients in need connect with doctors.
In preparation for this sponsored post, we asked NexRep for details and here's what they told us!
"As we try to navigate these challenging times in which people have been forced into their homes and out of work, NexRep is more committed than ever to finding work-from-home opportunities for independent contractors.
For 12 years, the NexRep Marketplace has been bringing together experienced professional contractors — people working from the comfort of their own homes — with Marketplace Clients in need of customer service and sales skills. We're especially happy these connections continue to be made now, even as much of the US is shutting down.
Teladoc, an exciting new client, has joined the NexRep Marketplace!
This is a high-demand opportunity for 1099 customer service professionals. You'll be supporting Teladoc and helping patients in need to connect with doctors!
4 reasons why you'll love this opportunity:
You'll have a real impact by coordinating patient access to a network of doctors available via teleconference.
You'll stay safe and healthy by logging in from the comfort of your own home office.
You'll have the flexibility to schedule your services around your day. For many people, that's more important now than ever.
You'll be eligible for a contractor bonus following completion of client-sponsored certification.

"
This opportunity is posted in the NexRep Contractor Marketplace. CLICK HERE and join the Marketplace — no strings attached!
Pay starts at $10/hour. Currently, NexRep cannot accept agents from NY, CA, RI, WA, AR, OR, IL, and NJ. If your state is excluded, please take a moment to share this great opportunity with friends and family in eligible states.
By the way, if you're not sure about the differences between Independent Contractors and employees, be sure to watch our short RRR video on the topic.