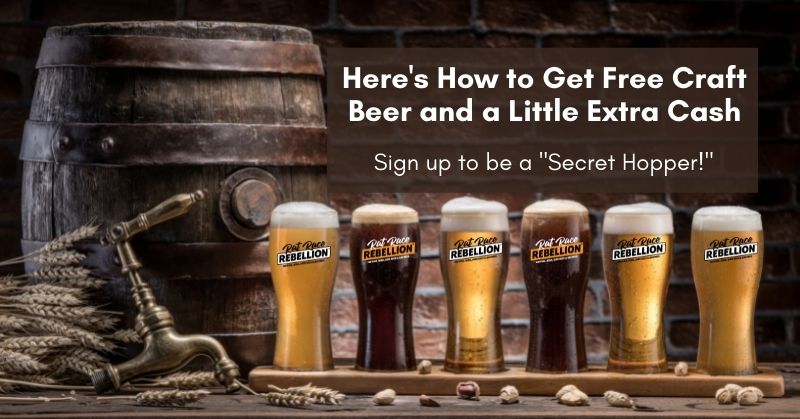 by Chris Durst          Dec. 8, 2021
If you love craft beer and extra cash, here's a gig you'll want to look into!
Secret Hopper is a secret shopper company that sends mystery shoppers into craft beer breweries to give firsthand feedback on the customer experience.
Breweries then use that feedback to help fine tune the tasting room experience for their customers.
This is a sporadic opportunity as it will depend on how many breweries are in your area, or in an area you are visiting, and the pay is minimal – covering the cost of your beer, plus a little more for your feedback. But, hey, it's free beer!
Pay appears to be a flat rate per shop and is paid within 45 days of the Hopper filing their submission about their visit.
In a 2018 interview with Andrew Coplon, Shop Hopper's founder, he noted that the, "… standard Secret Hop pays $20. This will cover the cost of a flight and pint. However, for some lucky Secret Hoppers, some of our visits also include dinner and the compensation increases to cover this. We openly state that we're not a way to make money, but a fun way for craft beer lovers to enjoy a couple drinks on us and help make the industry we all love even stronger."
Shoppers themselves report making, "a few dollars more than the cost of the beer."
That said, the company is looking for people who want to do more than just get free beer! You have to be willing to share the details about your experience.
The company selects their "Hoppers" based on age, gender, and experience with beer, and sends them in anonymously to check out bars, breweries, or bottle shops.
Their sign-up form is detailed and they remind people:
"Do not just write 'I love beer.' Show us your writing skills!
Breweries are looking for shoppers that can pay attention to small details.
If you do not supply a detailed writing sample, you will not be contacted for openings in your area."
Secret Hopper has been expanding across the US, but is not yet present in all areas. If you live in an area that is not yet active, you can still sign up and perhaps you'll be among the first to get assigned a gig when they expand.
Here's a bit of what Shop Hopper has posted:
"We are looking for detail oriented, fun loving individuals who want to objectively document their experiences at breweries.
Please provide us with a little basic information, read the Independent Contractor Agreement, and we will contact you when positions are available near you.
The more detailed your writing samples, the more likely you will be selected for a future Secret Hop.
Secret Hopper is not a way to make money, but a fun way to fund your craft beer hobby and help the industry we all love.
We look forward to contacting you when we have "work" in your area."
Regarding compensation, a deep dive into their Independent Contractor agreement states, "The rate of pay varies based on the costs, complexity, time and location of a job assigned as described in each Statement of Assignment. All information concerning pay is clearly disclosed when Contractor accepts a Statement of Assignment. In most cases, the pay rate is a flat rate and is not adjusted based on actual expenses.
By way of example and mere illustration only, if the rate of pay is $20 and the Contractor spends $30 on expenses to complete the Statement of Assignment, then Contractor will still only be paid $20 total."
So, don't go hog wild and expect the extras to be covered by the company.
CLICK HERE for full details and to apply. For more jobs like these, check our Newest Jobs & Gigs page. To be the first to hear about jobs like these, like our Facebook page and check your feed for our posts. May you be working from home soon!
PLEASE SHARE this post – turn your friends into Rat Race Rebels!