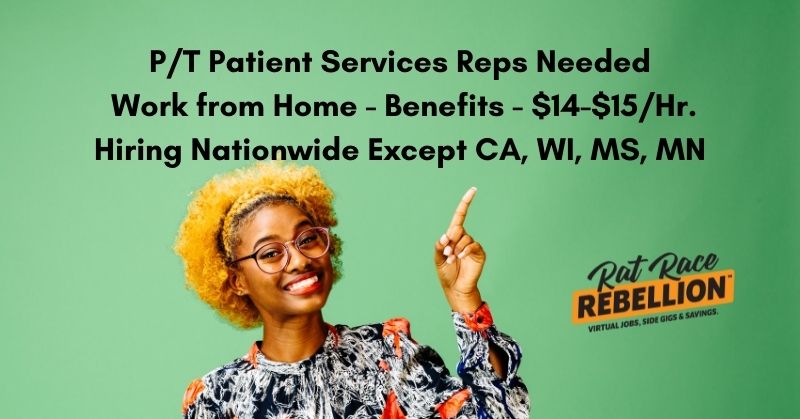 By Mike Haaren – Co-Founder, Rat Race Rebellion – Dec. 8, 2021
American Health Connection helps centralize patient services. As a part-time Patient Services Representative you'd be communicating with patients to verify insurance, schedule appointments, and the like. Pay for the part-time jobs is $14-15/hr. (Full-time jobs are also open. Those pay $15/hr.) Benefits included. Paid training.
Hiring from all states except CA, WI, MS and MN. No college required.
If you've had experience working in a medical-oriented field, this might be a fit.
Here's what they have to say about the job (excerpted from the listing):
American Health Connection is a national healthcare call center managing patient access for major hospitals and clinics across the United States. We are a family-oriented establishment that promotes sustainability by offering a flexible work environment, a competitive salary, and a generous benefits package. Come join our team!
Patient Services Representatives communicate with patients via phone, accurately and timely schedule appointments based on provided protocols, pre-register patients and verify insurance.
This fast-paced position requires a 2-year minimum working medical knowledge, experience in electronic health record systems (EMR/EHR), and basic insurance guidelines. Prefer candidates with high volume scheduling in a medical multi-provider facility. Must have patient clinical message encounters experience. Candidate must have exceptional communication skills. Written (legible, concise and with appropriate spelling) and verbal, including proper phone etiquette. Proficient and self sufficient on the computer and have a sense of urgency in assisting patients. Epic, Eclinical Works, Cerner EMR software experience a plus!
2 PART TIME SHIFTS
Monday – Thursday from 8:00AM – 1:00PM CST
OR
Wednesday – Saturday 8:00AM – 1:00PM CST (Saturday hours are subject to change with notice)
Part time shifts will need to allow for some flexibility based on call volumes (Start time may be an hour earlier or hour later with notice)
To become a Patient Services Representative the following is required upon hire:
Desktop Computer with a 22-inch monitor or bigger. Laptops are not acceptable.
Operating System: Windows 10 64-bit.
High-Speed Internet with a modem connected to PC through Ethernet cable. Wireless internet connections are not acceptable.
Internet speeds must meet a speed test minimum of 30 Mb/Sec download and 10 Mb/Sec upload.
2 AHC Approved Smith Corona Headsets (click here to see all approved headsets)
HIPAA Compliant space in your home that can be closed off
Applicants who reside in California, Wisconsin, Mississippi, and Minnesota will not be able to be considered at this time.
NO PHONE CALLS PLEASE, apply using the link provided.
For details and to apply, click here, then scroll down and search with keyword "patient" without quotes. You'll see both part-time and full-time openings. For more jobs like this, check our Newest Jobs & Gigs page. To be the first to hear about jobs like this, like our Facebook page and check your feed for our posts. May you be rocking your Rebellion soon!
PLEASE SHARE this post – turn your friends into Rat Race Rebels!