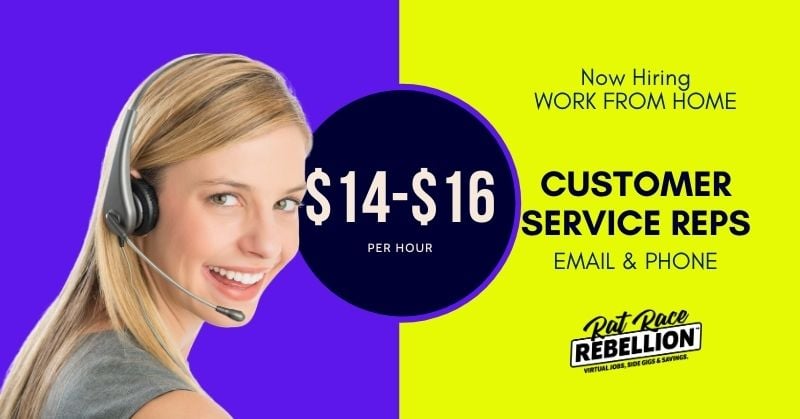 by Chris Durst      Aug. 25, 2021
Omni Interactions has posted openings for independent Customer Service Agents.
Omni works with independent contractors who use their customer service skills to serve as Brand Ambassadors — representing particular brands with amazing service to their clients.
The company gets good feedback from current workers who rate them 4.5 out of 5 stars on Glassdoor and 3.6 out of 5 on Indeed.
Hiring states are not listed in the job ad but, in the past, the were hiring in the following 35 states: AL, AR, AZ, CO, DC, FL, GA, IA, ID, IN, KS, KY, LA, MN, MO, MS, MT, NC, ND, NE, NH, NM, NV, OH, OK, PA, SC, SD, TN, TX, UT, VA, WI, WV, WY
Pay is in the $14-$16 per hour range.
Here's what the company has posted about these opportunities:
"Set your own hours, work from home, make $14-16/hour & try something new – our top paying projects pay $17/hour!
As a 1099 gig worker, you run your own business, write your own schedule (set your own hours!), and make as much or little as you want! Take control of your work by working from home on the Omni platform. Leave the 9 to 5 & join the gig economy!
As a gig worker with Omni, you are self-employed. You may have heard about other gig companies, but we're different. How? It's simple: We pay for available time! No more wasting time hoping you get a call, or not being paid for anything other than talk time. Working on the Omni platform, you will ACTUALLY make $14-16/hour GUARANTEED!

GBA Responsibilities
What work will you be performing?
You'll be providing customer service (taking inbound phone calls, answering chat messages, & responding to emails) for Fortune 500 companies.
You will interact with customers through phone and/or chat/email, helping them with anything they need!
What You'll Do
Work from home, or any quiet place with a closed door
Choosing when & how often you want to work
Respond to chats, emails, and calls from customers
Quickly help customers with good solutions
Solve problems in a creative way
Document details of calls & customer interactions in the appropriate systems
Type and talk at the same time
Navigate multiple systems, programs, and screens at the same time
Who You Are
Great communication skills (verbal and written)
Can type 25 WPM or more with 90% accuracy
Solid computer skills, including typing and navigation
Comfortable empathizing and remaining patient with difficult callers
Earning Potential
Projects will have varying earning potential, but all projects pay for time spent talking on the phone/chatting & assisting callers (unlike other gig companies – we pay you for available time!) You can also receive performance-based pay & other incentives. Current projects are paying anywhere from $14-16/hour.
As a self-employed 1099 Independent Contractor providing work-from-home customer support services, you are responsible for your own tax obligations. Actual earnings may vary depending on campaign, call type, call volume, and other factors. Independent Contractors are responsible for expenses and control their own income.
Scheduling & Hours
GBA's providing service on the Omni platform choose their own schedule by self-scheduling in 30-minute or 1 hour blocks. You get to choose how when & how often you provide services. The more hours you work, the higher your earning potential!"
CLICK HERE for full details and to apply. For more jobs like these, check our Newest Jobs & Gigs page. To be the first to hear about jobs like these, like our Facebook page. May you be working from home soon!
PLEASE SHARE this post – turn your friends into Rat Race Rebels!