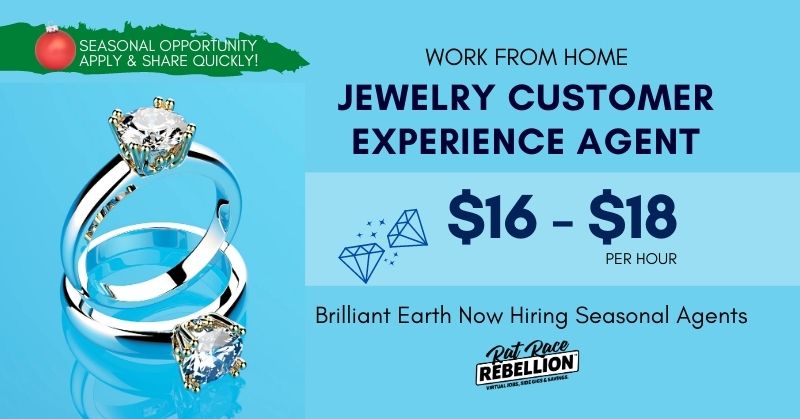 by Chris Durst       Sep. 21, 2020
Brilliant Earth, an online jeweler with a goal of, "creating a more sustainable, transparent, and compassionate jewelry industry," is seeking Seasonal Customer Service Experience/Call Center Agents.
These full-time positions are expected to run from 10/26/20 – 12/31/20 (they are closed on Thanksgiving Day and Christmas Day) and the hours covered by Agents are from 8 am – 7 pm PST, 7 days a week.
The hourly pay rate for this role is $16-18, depending on geographical location, as well as a potential for a bonus at the completion of the contract.
Here's what the company has posted about these roles:
"Brilliant Earth is one of the fastest growing e-commerce jewelers in the world, and the global leader in ethically sourced fine jewelry. Founded in 2005, we have been featured in Time, The Knot, Forbes, and Refinery29, among many other media outlets. We are a group of dedicated team members with a common goal of creating a more sustainable, transparent, and compassionate jewelry industry. We are hard-working team players that welcome challenges and rise to any occasion. Our community of collaboration, respect, and encouragement is fostered by celebrating our wins, big and small. Brilliant Earth team members bring a top-notch attitude and a willingness to help each other grow. For more insight into our work environment and culture, and to hear from our employees, check out our profile on the Muse!
The Customer Experience team operates in a fast-paced environment and is the engine which drives our company. As a team member during the busy Holiday season, you will have the opportunity to create personalized experiences and resolve customer inquiries while sharing in the happiest moments of our customers' lives.
About the role: 
Our Customer Experience Agents are dedicated to providing an exceptional experience for every Brilliant Earth customer. The Customer Experience Agent will be responsible for guiding the customer through product and order inquiries, utilizing our multi-line phone system. You will spend the majority of your day taking a consultative approach towards customer inquiries, via phone, regarding our luxury product line. The main objective of this position is to assist customers in their purchasing process and ensure positive customer experiences.
This is a Contract, Seasonal, Remote position, expected duration from 10/26/2020 until 12/31/2020. Applicants should be available to work full-time (30-40 hours per week) for the entire duration of the contract. The Agent team is staffed from 8 am – 7 pm PST, 7 days a week. Please indicate via the application which shift(s) you are available. We are closed on Thanksgiving Day and Christmas Day.
This is an hourly role, with pay rate between $16-18, depending on geographical location, as well as a potential for a bonus at the completion of the contract. Due to the temporary nature of this assignment, you are ineligible to receive company benefits.
What you'll do:
Create memorable and personalized experiences for Brilliant Earth customers by responding to customer inquiries through phone calls.
Manage, maintain, and close inbound phone tickets in a high-volume capacity.
Utilize customer service strategies and forward-thinking problem-solving techniques to effectively assist and guide customers.
Communicate with and support the customer experience team to help execute multiple processes and successfully complete orders.
Uphold a high level of professionalism to create a truly one-on-one ecommerce experience reflecting our luxury brand and product quality.
Maintain demonstrated responsibility and accountability for meeting individual and team goals while exceeding customer expectations.
You're a great fit if you have:
Robust customer service skills and experience working in a fast-paced ecommerce or contact/call center environment
A dedicated desire to connect with customers, solve problems, and create lasting positive experiences with each customer interaction
Ability to pay close attention to details
Excellent, professional verbal and written communication
Robust computer and phone skills – experience with a CRM system, managed multi-line phone system, or customer focused channel software system, preferred
A demonstrated and successful history of working in a fast pace, high volume work environment
Exceptional time management skills, accountability, and an ability to adapt quickly in a flexible work environment
A team-oriented mindset with an ability to work collaboratively and think critically
Interest in socially and environmentally responsible organizations and products
Additional Requirements:
U.S. Resident
Technical Requirements: 2 Monitors, Windows 10, 8 RAM, Noise canceling headset
Internet Requirements: Hardwired, Broadband Internet, at least 10Mbps. Access to router to make configuration adjustments.
Remote Work Requirements:

Distraction-free, safe & secure designated home workspace
Available to work with managers, co-workers and customers during assigned work hours via phone, email and instant messaging system
What you can expect from us:
We look forward to reviewing your application! After review, we will send an additional online exercise to complete, which takes no more than 45 minutes. After receipt, a member of our recruiting team will reach out to schedule a call to further discuss your qualifications and experience."
CLICK HERE for full details and to apply. For more jobs like these, check our Newest Jobs & Gigs page. To be the first to hear about jobs like these, like our Facebook page. May you be working from home soon!
PLEASE SHARE this post – turn your friends into Rat Race Rebels!