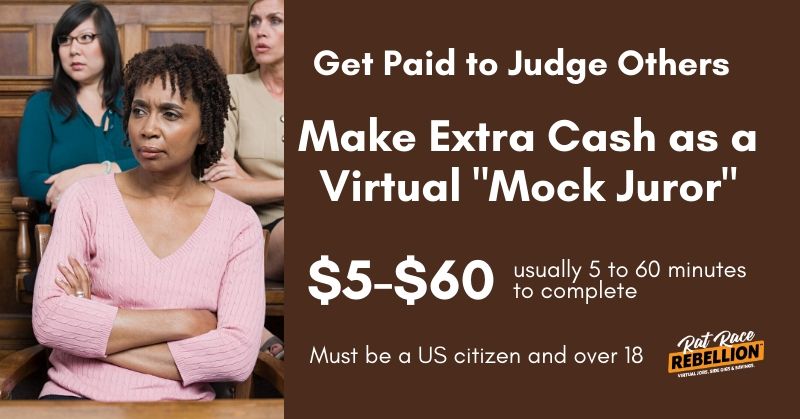 by Chris Durst    Apr. 30, 2020
If you find yourself "weighing the evidence" along with the jurors in movies, books, and television dramas, you may just love these Virtual Mock Juror gigs!
Many lawyers want to know what a real jury will think of the case they've put together BEFORE actually taking it into the courtroom. Using sites like the ones listed below, they have Virtual Mock Jurors read through their case summary and answer questions that can help them to better understand how the actual jury might feel about the case.
Any US citizen over the age of 18 may sign up to participate as a Virtual Mock Juror.
These are contractor roles and the pay ranges from $5 to $60 per case, or even more depending on the complexity of the case you are reading. In most instances, a case will take between 20 – 60 minutes to review.
This is an EXTRA CASH opportunity, not a regular income. We've heard from some people who are getting cases regularly and others who say there can be a long wait in between. Jurors are selected by their location and other determining factors.
Compensation: $20-$60
"Lawyers will post a case summary and verdict questions to the OnlineVerdict, with the option of having 25 or 50 jury-eligible people like you review the case facts and provide feedback on the case issues. Registered jurors in the venue the case was filed will receive an email invitation to review the case, and when completed, will receive payment for their time. Juror feedback is then tabulated and presented to the lawyer or legal professional who posted the case. It is that simple."
Compensation: $5-$50
"A summons will come in the form of an e-mail, which will direct you to come to the JuryTest.net homepage and login with your username and password.
Once you do, you will be directed to the case that has been selected for you. You will "play" this case through the RealPlayer multimedia player.
You will see exhibits and/or hear a lawyers argument/summary about his legal case. You will hear the lawyer tell you one side or two sides of his case. If he only tells you one side, then another lawyer will tell you another side of the case.
We want you to just sit back and listen, jot down a note or two if you'd like and develop your opinions about the case. Case summaries can be as short as five minutes or as long as 30 minutes. You will be informed ahead of time, can choose the length of cases you would prefer to be involved in and you will be paid more the longer the case is…"
For more work from home jobs and gigs, check our Newest Jobs & Gigs page. To be the first to hear about jobs like these, like our Facebook page and check your feed for our posts. Good luck in your work from home plans!
PLEASE SHARE this post – turn your friends into Rat Race Rebels!