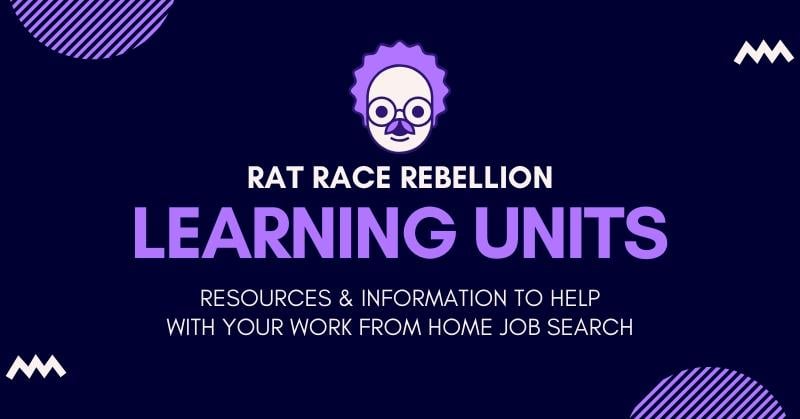 by Chris Durst
If you've been looking for and applying to jobs all over the place, but just can't seem to nail one down, you seriously need to check out our FREE RRR Learning Units!
While not as comprehensive as our VIDEO COURSE — How to Find a Work from Home Job or Side Gig in 30 Days or Less — the Learning Units are designed to help you find your job or gig faster.
Currently, there are four units:
Unit 1: Work From Home Job Search Tips
UNIT TOPICS

VIDEO: Using Indeed to Find Jobs in Often "EXCLUDED STATES" (CA, NY, MA, etc.)
Is Your Social Media Presence Hurting (or Helping) Your Job Chances? Tips!
Think Outside of the "Phone Job" Box – Beyond Customer Service Jobs
VIDEO: How to Find Overnight Jobs on Indeed.com
Remove the Words ONLY and JUST from the Way You Think About Your Work History — and Watch Good Things Happen!
Unit 2: Work From Home Resume
UNIT TOPICS

Your Work From Home Resume: Explaining "Illness Gaps"
Your Work from Home Resume: Explaining "Parenting Gaps"
Your Work from Home Resume: Explaining "Caregiver Gaps"
How to Include Rideshare Work on Your Resume
87 Soft Skills: The Big List
185 Action Verbs That'll Make Your Resume Awesome
ATS-Friendly Resume Templates
3 Ways To Beat The Machines That Judge Your Résumé When You Apply Online
Unit 3: Cover Letter Tips, Pointers & Resources
UNIT TOPICS

Work from Home Jobs – 7 Tips for Writing a Great Cover Letter (And Why You Should!)
Using Your Cover Letter to Help Explain Parenting Gaps in Your Work History
How to Write a Cover Letter (250+ FREE Templates)
Jobscan's Guide to Writing an Effective Cover Letter
Unit 4: Tough Interview Questions & How to Answer Them
UNIT TOPICS

Tough Interview Question 1: How would you describe yourself in one word?
Tough Interview Question 2: Why should we hire you?
Tough Interview Question 3: How do you handle stress?
Tough Interview Question 4: Why do you want to work for our company?
Tough Interview Question 5: Tell me about a time you've overcome an obstacle.
Tough Interview Question 6: Why do you want to work from home?
[social_warfare]