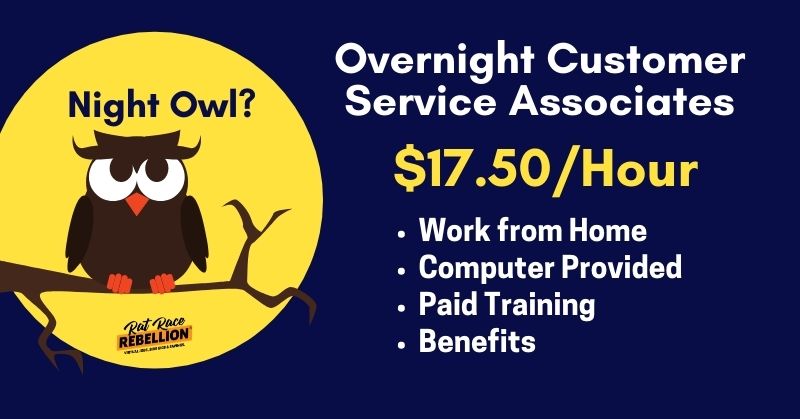 by Chris Durst        Apr. 20, 2022
These jobs fill quickly! Apply or share ASAP if interested!
Fiserv is a Fortune 500 company that's looking for Work from Home OVERNIGHT Customer Service Associates. Pay is $17.50/hr., computer provided. Benefits start on the first day.
Hiring nationwide except  CA, CO, CT, DC, IL, MA, NY, OR, RI, VT and WA.
If you don't have call center experience don't be discouraged. Fiserv credits customer service experience in retail, restaurant, hospitality, etc. 
Start Date: 6/6/22
Here's what the company has posted about the openings:
Who We Are
What makes Fiserv a GREAT fit for you? Our purpose is to deliver superior value for our clients through leading technology, targeted innovation and excellence in everything we do. When you join the Fiserv team, you'll be part of a fast-growing team that is transforming the way merchants run and manage their business. Clover was founded to deliver more to these small and medium-sized businesses that desperately need easy-to-use software and beautifully designed hardware. With Clover, these businesses can run thousands of transactions, access reports on a dashboard remotely and manage their inventory through a single solution. Clover replaces cash registers, terminals, receipt printers, label printers and barcode scanners. It allows businesses to read Chip and PIN cards, swipe credit cards and process Apple Pay and other mobile payment apps. Clover has sold over one million devices to restaurants and shops all over the world—and probably in your own neighborhood.
How do we accomplish it all? By hiring and retaining associates who are capable in handling any situation with confidence and grace.
Who We're Looking For
At Fiserv, we value our associates as much as our customer. This job isn't for the faint of heart. No two customers, problems, or resolution journeys are the same. Sometimes you won't know the right answer, but we're looking for someone who will rely on your resources and is always up for the challenge.
Our associates are the kind of people who create a plan and take charge in situations where others feel lost. If you excel at figuring out logic puzzles and logistics challenges outside of work, such as organizing sports tournaments or planning long road trips with multiple destinations, then we bet you have the right stuff!
We're looking for people best described as…
A proactive, solution-oriented decision maker
A planner, multi-tasker, and expert problem solver
Intelligent and passionate with an overwhelming need to achieve
Outspoken, with a "can-do" attitude and infectious positivity
What You'll Do In Your Role
As a Technical Support Specialist at Fiserv you are in charge of solving customers' problems and helping them get back to managing their business as quickly and effortlessly as possible. You will do this on the phone with small business owners most of the day helping them get back to running their business. You are empowered to provide customers with peace of mind that their current issue is resolved and that none are on the horizon.
Successful associates deliver an effortless customer experience by:
Taking the lead – our reps take ownership of customers' issues, relieving customers' stress while guiding them to a quick and easy resolution.
Identifying future problems – not only do our reps solve the current customer concern but they actively identify and solve any lurking complications the customer may encounter after their first interaction.
Sharing insights with peers and management – our positive team culture relies on open communication to continuously improve how our work gets done.
Having fun! – our work is important, but we don't take ourselves too seriously. We love helping others and have a fun community dedicated to doing so!

Our Investment In You
Don't worry – you don't have to be an expert to become one! So long as you bring your passion for helping people and problem solving, we'll invest in you to take care of the rest. We'll provide fun, thorough and paid training that will teach you everything you need to know to feel confident handling technical device issues with a team of support by your side.
As an associate, you are the face of our company, and at Fiserv we believe it's important to ask for our reps' input on anything from customer solutions to workspace design.
Join our team to enjoy:
Recognition and rewards for high-performance and improvement
Internal career pathing and increase in pay as you progress from a Clover Pro to Expert to Elite
Monthly engagement activities and contests in each location
A dynamic work environment that keeps you thinking!
Basic requirements for consideration:
High School diploma or GED
Minimum of one year of experience working in a customer facing role, preferably in customer service (ex: retail, restaurant, hospitality)
Quiet and secure working environment free from background noise
Familiarity with computers and internet navigation
Internet speed requirements
To test internet speed, visitwww.speedtest.netand click GO – results will display at the top of the page
Ping less than 50 ms
Download greater than 12.0 Mbps
Upload greater than 2.0 Mbps
Preferred qualifications:
Strong work tenure with previous roles lasting a year or more.
Experience working in a metric driven environment
6 Months of Technical Troubleshooting Experience in a call center
As a work from home flexibility worker, you should be able to effectively operate a computer-based phone system and have medium to high proficiency with Microsoft Outlook, Excel and Web browsers such as Chrome and Internet Explorer, etc. You'll also need to be comfortable entering information into appropriate computer databases. Supporting our clients will also be a fun part of your job
Things to know:
Pay Rate: $17.50/Hr.
Start Date: 6/6/22
Schedules Available:
Training will be held Monday thru Friday, 10:00am-6:30pm EST. The production schedule will begin after training and certification which is overnight shifts starting at 8 pm which includes a 12% shift differential.
Holidays worked will be paid at the premium rate of double time and a half
1 hour of Mandatory overtime is required in many of our lines of business due to business need. Any mandatory overtime will be paid at 1.5 times your base salary after you have worked 40 hours in a week
Pre-employment background, credit, and drug test are required.
This is a remote role, but may not be performed in the following states: California, Colorado, Connecticut, Illinois, Massachusetts, New York, Oregon, Rhode Island, Vermont, Washington D.C, or Washington.
CLICK HERE for full details and to apply. For more jobs like these, check our Newest Jobs & Gigs page. May you be working from home soon!
PLEASE SHARE this post – turn your friends into Rat Race Rebels!