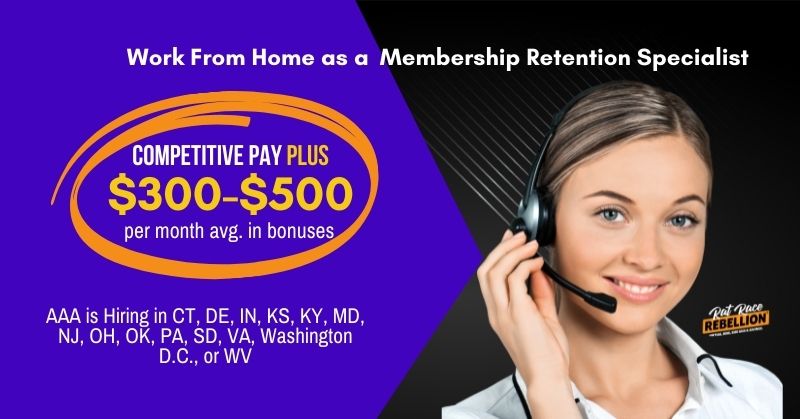 by Chris Durst          Nov. 8, 2021
TRAINING STARTS DEC. 6th, SO APPLY OR SHARE QUICKLY IF INTERESTED!
AAA, the roadside assistance company, regularly hires people to work from home.
Currently, they've listed openings for Work from Home Membership Retention Specialists.
Applicants for this role must reside in CT, DE, IN, KS, KY, MD, NJ, OH, OK, PA, SD, VA, Washington D.C., or WV.
These are full-time positions and the company offers a comprehensive benefits package.
Pay is noted as, "competitive hourly rate depending on experience," and there is also a Monthly Incentive Bonus Plan based on your performance — "Avg. earnings between $300-$500."

Here's what the company has posted about this opportunity:
"AAA is hiring an ambitious Retention Specialist who has a customer focus to retain current members that have expressed a desire to cancel their membership by discussing the full array of AAA membership benefits.
Please note: this position is work from home, but you must live in our territory to be considered.
Details:
Tentative start December 6th
Mandatory Virtual Training will be for the first 5 weeks, Monday – Friday 9:00am – 4:00pm
Schedule: 5 days per week, 37.5 hours, 11am – 7pm with Thursday and Sunday off
Position will work be from home.
Wired internet connection required.
What AAA provides you:
A competitive hourly rate depending on experience
Monthly Incentive Bonus Plan based off of your individual performance (Avg. earnings between $300-$500)
Comprehensive benefit package including up to 3 weeks of Paid Time Off accrued during the first year
Volunteer Time Off
Community Involvement
Tuition Reimbursement
Free AAA Premier Membership
Career Development
401(k) plan
Medical, Dental, Prescription, and Vision Coverage
The day to day:
Communicate the membership value and helps Members identify benefits that match their needs. Specifically a specialist in this position:
Deploys deep product knowledge, problem solving, selling and customer service skills to differentiate AAA from its competitors and communicate the full value of the membership and AAA brand.
Provides courteous and professional counseling in responding to Member inquiries concerning membership benefits and services, including Financial Services, Driving School, Roadside
Assistance, Travel Services, Insurance and other member services.
Operate automatic call distribution (ACD) telephone set and PC running Windows-based and Internet applications.
Accurately gather, document and respond to members' needs using sound business judgment based upon club business rules and policies and match those needs to appropriate and relevant AAA products and services.
Contact members by phone or email upon non-renewal in an attempt to renew membership coverage.
Handles the more complex calls by defusing frustrated or upset callers and can tailor the conversation and membership benefits discussion to each individual caller.
Minimum Qualifications:
Ability to respond to customer inquiries and interact with individuals at a level normally acquired through the completion of a high school degree or equivalent and two (2) to five (5) years of customer sales and service experience.
Previous inside sales skills that focus on customer care are desirable.
Maintains exceptional attendance and punctuality. This position is emergency personnel. Has the ability to work overtime and/or holiday as necessitated by business need and/or weather conditions. Has the ability to work remotely if needed.
Effective analytical and oral communication skills to enable accurate completion of assignments, proper handling of problem situations and constructive interactions (inbound, outbound and written) with others.
Is able to be licensed for membership sales as required.
Completion MCC Champion training /certification for new hire assistance; required to attain with 6 months of hire date.
Completion of Business Writing course; required to attain within 6 months of hire date."
CLICK HERE for full details and to apply. For more jobs like this, check our Newest Jobs & Gigs page. To be the first to hear about jobs like these, like our Facebook page. Good luck as you make your work from home plans a reality!
PLEASE SHARE this post – turn your friends into Rat Race Rebels!