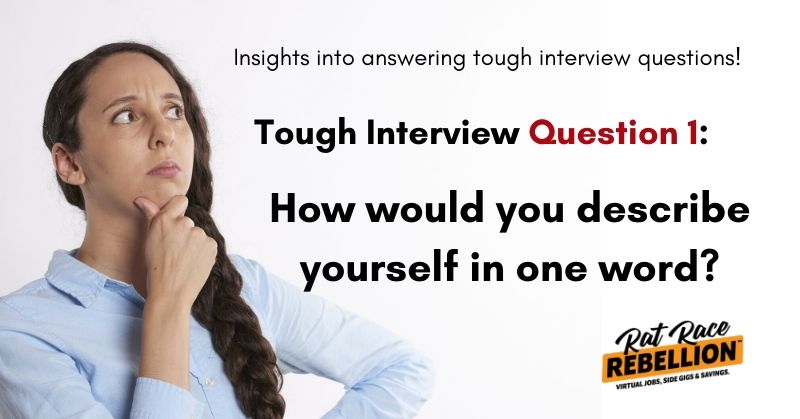 by Chris Durst           Jan. 3, 2020
We're starting a conversation about hard-to-answer work-from-home interview questions and we hope you'll join us on our Facebook page to share your thoughts, questions, and best responses. 
Over the next week or so, we'll be posting a series of questions along with our thoughts about how to construct a solid, meaningful response.  We're kicking it off with, "How would you describe yourself in one word?"
In my opinion, this is one of the most difficult interview questions to answer. We are all multifaceted beings so how can we possibly boil all that we are into one descriptive word?
Rather than giving your interviewer a response that could come across as "generic," like hard-working, try to come up with one that describes you and also helps your interviewer see you in the role you're applying for.
For example:
Resilient
Adaptable
Perceptive
Open-minded
Patient
Diligent
Dependable
Imaginative
Focused
Inquisitive
Flexible
Calm
Confident
Persuasive
Learner
Listener
Efficient
Courteous
Teacher
Insightful
Resourceful
Honest
Communicator
Tech-Savvy
Determined
Eager
Tenacious
Enthusiastic
Friendly
Strategist
Independent
Decider
Adventurous
Responsible
Articulate
YOUR TURN! Hop over to our Facebook page and you'll see a post on this topic. Please share in the comments your "ONE WORD" (it's OK to list one of those I've included in the list above.)
PLEASE SHARE this post – turn your friends into Rat Race Rebels!
[social_warfare]