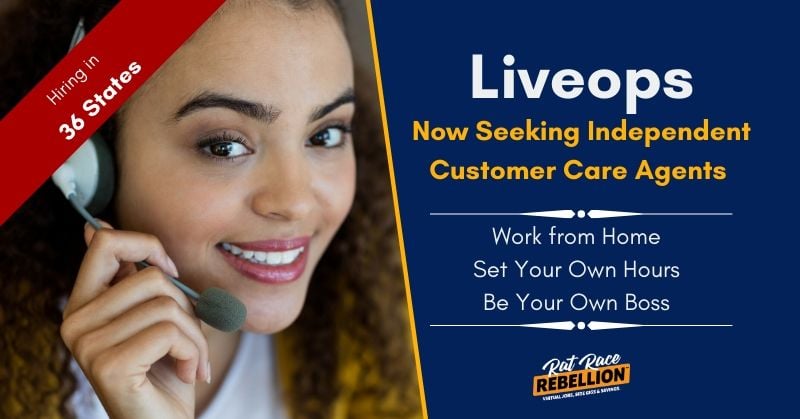 by Chris Durst      Apr. 22, 2020
If you're looking for a work-from-home, customer care role that will allow you to set your own schedule, Liveops may have exactly what you're looking for!
Liveops' client roster includes Fortune 500 companies in retail, insurance, healthcare and direct response industries. This means, once you land a contract with them, you're opening the door to a world of exciting possibilities.
The company has a solid reputation among their home-based contractors and across the remote work landscape generally. Rat Race Rebellion has been listing their opportunities for years and, as you know, we vet the jobs we post very carefully.
Currently, Liveops is seeking qualified contractors in AL, AR, AZ, DC, DE, FL, GA, IA, ID, IL, IN, KS, KY, MD, ME, MI, MN, MO, MS, MT, NC, ND, NE, NM, NV, OH, OK, PA, RI, SC, SD, TN, TX, VA, WV, and WY. (If you don't reside in one of these states, we encourage you to share this post with friends and family so they can get on board.)

Here's what Liveops has posted about this opportunity for contractors:
"Our well-known clients are seeking Independent Contractors to provide virtual services to their customers across a variety of industries including Retail, Healthcare, Licensed Insurance, Non-Licensed Insurance and Tax Support.
As an Independent Contractor, you have flexibility to choose when and where to provide services. Login and provide services when it works for you as you are your own self-employed boss!
Opportunity Details
As an Independent Contractor, you are self-employed and can:
Work from home or any quiet place.
Set your own schedule to work around your life.
Enjoy the freedom and flexibility of being your own boss.
Our Clients look for Independent Contractors who are comfortable:
Conducting inbound and outbound customer service calls with customers.
Creatively problem solving.
Quickly assessing customer needs and providing sound solutions.
Providing a high-level of customer service.
Documenting details of all calls and customer interactions.
Managing through multiple systems, programs, and screens simultaneously.
Successful Independent Contractors will have the following skills:
Experience handling inbound and outbound calls
Minimum 1 year of customer service experience
Computer skills including navigating multiple tabs, windows and systems
Basic typing skills
Strong customer service and written skills
Comfortable empathizing and remaining patient with difficult callers
Earning Potential:
As a business provider of call center services, you will submit invoices and receive payment for completed services. Programs have varying pay structures, but most programs pay for time spent talking on the phone and assisting callers. Independent Contractors may also receive performance-based pay or other incentives.
As a self-employed 1099 Independent Contractor providing virtual call center services to Liveops and it's clients, you will be responsible for your own tax obligations. Actual earnings may vary depending on opportunity, call type, call volume, and other factors. Independent Contractors are responsible for expenses and control their own profit and loss.
Technology and Certification Requirements
Application and Certification Process:
To become an Independent Contractor the following are required:
Complete an application to Join Liveops Nation, which includes passing a background/credit check

The background/credit check requires a $45 processing fee paid directly to our vendor  [Before you apply, if you're not sure about the differences between Independent Contractors and employees, be sure to watch our short RRR video on the topic.]
View our background and credit check requirements here: https://join.liveops.com/work-from-home/#faqs

Sign an Independent Contractor Agreement
Complete a W9 form
Opportunities that you choose may have additional requirements, including certification specific to a program
We have a variety of programs starting every week!
Program Metrics Requirements:
These programs may require Independent Contractors who choose to participate in these opportunities to provide services above posted minimum standards to maintain eligibility.
Availability:
Independent Contractors choose their own schedule by self-scheduling in 30-minute blocks. As an Independent Contractor you get to dictate when and how often you commit to servicing our clients; the more you service, the higher your earning potential!
Client's call availability will vary and is subject to change, however generally calls are available daily from 8am to 8pm EST. Several clients also offer 24/7 call availability.
Technology Needed for Success:
Please review the Liveops basic technology requirements by clicking [the link below and reading through full details]:
Please note, several clients will require additional security measures and technology equipment
In addition, several clients will not route calls through a landline and will route calls through a USB headset

Additional information regarding this will be provided once qualified for a program
What's Next?!
Submit your application today! Once qualified, a member of our team will reach out with next steps! Get ready to join Liveops Nation!"
Before you apply, if you're not sure about the differences between Independent Contractors and employees, be sure to watch our short RRR video on the topic.
CLICK HERE for full details and to get started. For more jobs and ways to make extra cash, see our Daily Jobs & Gigs page. To be the first to hear about jobs like these, like our Facebook page and check your feed for our posts. May you be working from home soon!
PLEASE SHARE this post – turn your friends into Rat Race Rebels!