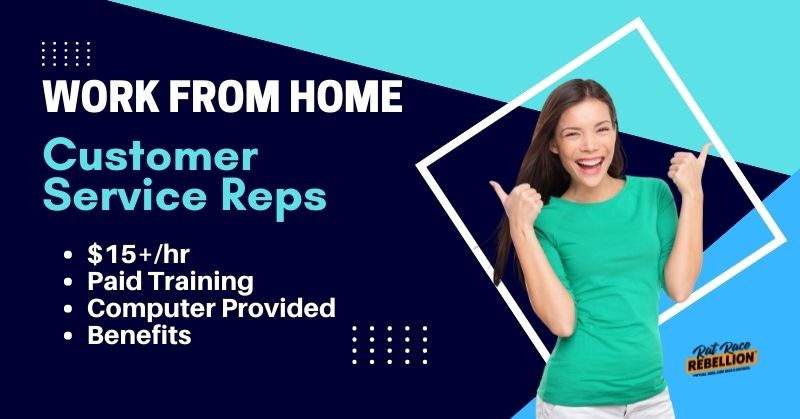 by Chris Durst    Aug. 4, 2022
Assurant, a leading global business services company, has posted openings for Work from Home Customer Service Representatives.
If you're a great listener and problem solver, and communicator, who has at least a high school diploma or GED, this might be a good fit for you!
Pay is not noted in the job post, however, Glassdoor places the rate in the $15-$18/hour range.
The company has a nice benefits package that starts on day one.
Here's what the company has posted about this opportunity:
"This is a REMOTE position.
The role of a Customer Service Representative is a key position within Assurant because you are the voice of our organization and our clients.
You are highly valued as our customer's primary point of contact, and Assurant is very much invested in your success in this role. Providing excellent customer service is top priority for us!
The Customer Experience is at the forefront of all you do, exceeding expectations at every turn. You are a listener, problem solver and believe in quality. You enjoy being on the phone and customers hear your smile as you patiently help them find resolution.
What makes us different?
We have various work schedules and pay shift differentials for night and weekend hours worked.
Medical benefits begin on your first day
Tuition reimbursement available after 6 months, up to $5000/annually
Competitive paid time off, including holidays
What will be my duties and responsibilities in this job?
Receive in-bound calls from customers and provide superior service
Listen to our customer's concerns, solve problems, answer questions and work with them to find a resolution while showing empathy
Because every customer is different, we expect you to take the initiative to truly understand our customers current challenges, solve them, and use your expertise to proactively help them avoid future challenges
You may be asked to participate in special projects, assume new responsibilities and adjust priorities as requested
Note: This position does not involve cold calling/outbound calls related to solicitations, contract upgrades or sales of any kind
What are the requirements needed for this position?
Minimum high school diploma or GED
0-3 years of prior experience in a customer-facing role
Excellent verbal, written, and listening skills
Strong attention to detail
Great communication skills, a love for talking to people and ability to WOW customers on every call
Relentless drive to own the customers problem and ability to think outside of the box to resolve them
Ability to adapt to change and work well in a fast-paced environment
Ability to multi-task using technology
Assurant provides a paid comprehensive training program to equip you with the tools and knowledge to meet our customers' needs. As a condition of employment, you must attend all the required training to achieve an optimal learning experience and qualify for this role.
What other skills/experience would be helpful to have?
A college degree and 0-1 years of work experience in an office, call center, or customer contact center environment
Prior experience in a work from home position
Bilingual in English/Spanish: the ability to speak, read and write the Spanish language fluently
What are the working conditions and physical requirements of this job?
General office demands
While working remotely, you are required to have internet services with a minimum internet speed of 15 Mbps on the download side and a minimum of 3 Mbps on the upload side. You can test your internet speed at www.speedtest.net or by contacting your service provider.
This is a Full-time job. Assurant's hours of operation are 7 days a week, Monday through Sunday, 365 days per year including holidays. Work schedules are generally set for several months at a time but are subject to change based on business needs and we have periodic shift bids that help determine your work schedule. Interested candidates must have a reasonable degree of schedule availability and flexibility to work varying schedules throughout the year."
CLICK HERE for full details and to apply. For more gigs like these, check our Newest Jobs & Gigs page. To be the first to hear about gigs like these, like our Facebook page. Good luck in your next steps toward working from home!
PLEASE SHARE this post – turn your friends into Rat Race Rebels!