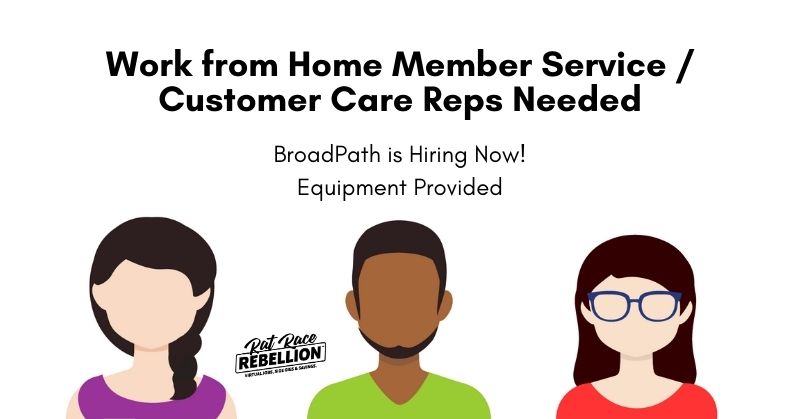 by Chris Durst        Sep. 3, 2020
BroadPath Healthcare Solutions is gearing up for the fall health insurance enrollment season and they are now hiring work from home Member Service / Customer Care Representatives.
No state limitations are listed in the job post, but we do know in the past CA and HI were excluded.
Pay is not listed in their job posting, however, sources on Indeed indicate it's in the $13 – $14/hour range.
Here's what the company has posted about this opportunity:
"Our Member Service / Customer Care Representatives are "best in class" They possess a passion for their work and an equal passion to see their members/customers happy and exceptionally satisfied with their experience when calling in. They can handle any number of tasks, ranging from updating an address, to locating exactly the right specialist for a delicate and critical need. They do all this and more with grace and ease. If you have a passion for service and any experience in a customer/member oriented service role, ranging from retail, food service, hospitality to health plan member service you should consider a career with us at BroadPath. If you want to be a part of a "best in class" team and enjoy the daily challenge of providing our wonderful clients and their members/customers with unmatched quality in service, join us today!
Responsibilities
"A DAY IN THE LIFE" – WHAT IT'S LIKE:
Member Service / Customer Care Representatives have a lively and varied daily level of activity:
There are days when it is very busy, and you are moving quickly from call to call
There are days when it is slow, and you will be looking to find additional things to do, and keep busy too
You will virtually meet many new people daily, and they will be from all over the USA potentially and possibly outside the US as well
The members/customers will need your assistance and will be looking to you be to their "problem solver" or "guidance advisor" as they will be calling in to get something solved, or find out what needs to be done in many cases.
Sometimes they will already be extremely frustrated by the time they reach out, but you got this, and know to expect that can happen, knowing you would feel the same in their place

WHAT YOU DO:
Member Service / Customer Care Representatives receive inbound calls from members/customers and do things such as:
Relay important information, update customer's contact information and accounts and resolve billing questions or issues
Help members/customers understand any challenges they are having and aid in providing timely satisfactory solutions
Discuss inquiries from members regarding eligibility, benefits and authorization of services when applicable
Ask appropriate questions and listen actively to identify specific questions or issues while documenting required information in the required record system
Be responsible for maintaining certain levels of quality, and performance standards based on established call center metrics and benchmarks for the team
Ensure compliance with BroadPath, Client, and any job specific regulations in place for their team and role
Basic Qualifications
Energetic, positive communication style with emphasis on "service with a smile"
Empathetic, and able to quickly identify and prioritize customers' needs
A self-starter with a tenacious work ethic, willing to get the work done and keep on a task, even when at times it can be monotonous or challenging
Collaborative team player
Experience in a service-oriented role such as retail, hospitality, fast food, in person customer service, call center member or customer service
Strong computer & telephone multitasking skills including: the ability to effectively search for and type information in on the computer, navigate through multiple window tabs and screens quickly, while inputting the information accurately, and keeping pace while conducting calls with customers

Preferred Qualifications
Previous call center experience
Previous successful work at home experience
Note: Some of our call center positions require a specialized level of experience interacting with a particular type of customer such as: a health insurance plan member or a financial services customer as examples. This specialized experience will be listed in the qualifications when it's required for an available position."
CLICK HERE for full details and to apply. To see more jobs like these, check our Newest Jobs & Gigs page. To be the first to hear about jobs like these, like our Facebook page and check your feed for our posts. Good luck!
PLEASE SHARE this post – turn your friends into Rat Race Rebels!
[social_warfare]