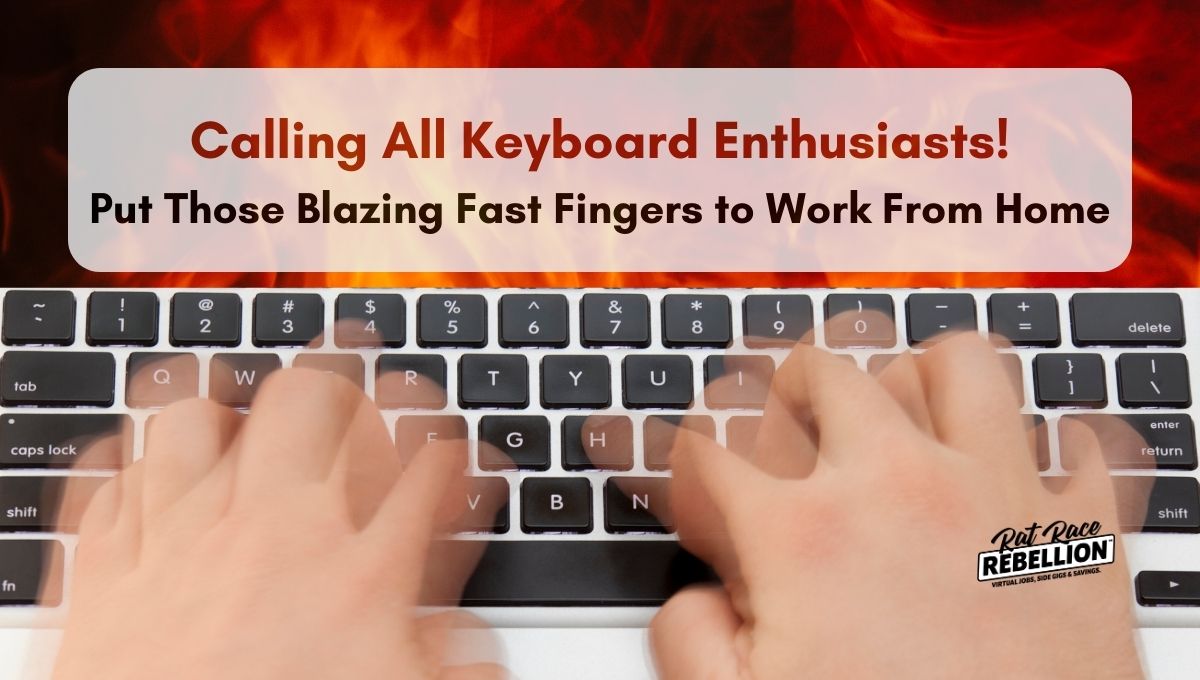 by Christa Barbari      Nov. 7, 2023
WFH jobs are filling faster than ever. If you see anything you like, be sure to apply or share quickly! Sorry, but we have no role in the HR processes of other companies. If you encounter difficulties in the application process please contact them directly. (Some links are affiliate links, which pay us a small sum if you use them. It helps us keep the job leads coming.) Good luck in your hunt, and may you be working from home soon!
Are you known for your keyboard acrobatics? Do your fingers dance across the keys like nobody's business?
Well, guess what? Your typing skills just became your ticket to the world of remote work. Whether you're a data-entry dynamo, a transcription titan, or a wordsmith in the making, here's a batch of remote jobs and gigs that'll have you typing your way to success faster than you can say 'QWERTY'!
Data Entry Clerk: Data entry jobs involve inputting data into computer systems. Strong typing skills are a key requirement for this role.
---
Virtual Assistant: Virtual Assistants provide administrative support to businesses and individuals. Efficient typing is essential for tasks like email management and document preparation.
---
---
Transcriptionist: Transcriptionists listen to audio recordings and type out the spoken content. Fast and accurate typing is crucial in this field.
---
Content Writer: If you have decent writing skills, you can explore content writing gigs. Some entry-level opportunities may not require extensive experience.
---
Online Surveys and Market Research: Participating in online surveys or market research studies often involves providing written responses. Speedy typing can help you complete surveys more quickly.
---
Customer Support Representative: Some companies hire remote Customer Support Agents. While experience can be beneficial, good typing skills and communication abilities are also important.
---
---
Freelance Proofreading and Editing: If you have a strong command of language, you can work as a freelance proofreader or editor, correcting spelling and grammar errors in documents.
---
Online Tutoring: Online tutoring in subjects you are proficient in doesn't always require teaching experience. Effective communication and typing skills are valuable.
---
Social Media Management: Managing social media accounts for businesses involves writing and scheduling posts. Quick typing can help you manage multiple accounts efficiently.
---
Online Marketplaces: You can explore platforms like Upwork, Freelancer, or Fiverr for various freelance opportunities. These include short-term projects that may not require extensive experience. Here are a few marketplaces vetted by RRR that are a favorite with our readers.
---
While minimal experience may be acceptable for some remote roles, don't forget to develop relevant skills to enhance your job prospects! For help, check out Free Resources to Speed Up Your Job Search and Help Your Quality of Life, Too.
For more fast key leads, check out, Hey, Typing Whiz! 11 Transcription Jobs for Beginners and our The Ultimate BIG LIST of Work from Home Jobs!
---
To get our job posts ASAP, sign up for our free Telegram channel. Be sure to check out our Newest Jobs & Gigs page, too. Good luck as you make your work from home plans a reality!
PLEASE SHARE this post – turn your friends into Rat Race Rebels!