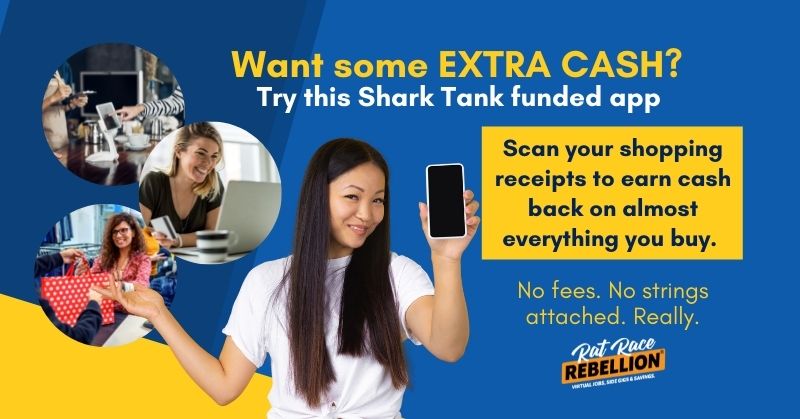 Some of the links in this post are from our sponsors or affiliates. That said, we are committed to providing you with accurate, reliable information always and this opportunity has been screened by our own RRR investigation team!
by Chris Durst
If you watch Shark Tank, you may have seen CoinOut founder, Jeff Witten, pitch this app and land a deal with Robert Herjavec.
You shop, right? For groceries, gas, clothes, coffee, etc.? Here's an app that will help you get some of your hard-earned cash back where it belongs — IN YOUR POCKET!
CoinOut is a cash-back app (for Apple or Android) that enables you to make a small amount of cash-back — from virtually any retailer, for any product purchase, in-store or online — by just scanning the receipt.
The app is rated at 4.7 out of 5 stars in the Apple Store and 3.7 out of 5 stars in the Google Play Store. Unlike some cash-back app makers, CoinOut has taken some extra measures to ensure you are safe and comfortable using the app, including:
There are NO FEES to you.
They do not gather financial information.
You can earn even more when you refer friends.
They will not sell your information.
While you won't earn a lot for each receipt you scan, it will add up and, what the heck, you're already buying stuff (groceries, gas, clothes, books, etc.) anyway, right?
Here's a bit of that the company has posted about their app:
"The CoinOut App (for Apple or Android) 
You take photos of your receipts after you purchase. We give you randomized rewards. That's it! We use the purchasing data to show you more relevant offers in the app and chances to earn through partners, feedback forms and other ways. We NEVER sell your information.
How it works
There are many cash back apps. We think they are too complicated. With CoinOut, you'll get a random reward for every receipt you upload! You can also earn by shopping through CoinOut for email receipts and signing up to CoinOut partners.
Online Cash Back
Simply start the purchase from the CoinOut app and find the merchant logo. You'll get CoinOut cash back after completing the purchase automatically!
Track your transactions
Find all your transactions from in-store to online cash back so you can see all your bonuses and watch your balance grow!
Earn bonus cash
Look for the CoinOut icons on the homescreen to learn about our partner market. We work with great partners who find you ways to save and earn!
The Benefits
CoinOut is a no-brainer! It's easy to use, fun and offers a number of different ways to put cash in your pocket.
Track your visits
Upload receipts from all your transactions to have tracking on your past purchases. All images viewable in your profile!
Customer Support
We pride ourselves on having the best customer support! We'll show you love and always find ways for you to earn and save more money!
No Data Selling
CoinOut does not sell your Personal Information to third parties. Any information otherwise disclosed to third parties is aggregated and deidentified so that no one can reasonably identify you as an individual. Please review our Privacy Policy for more information.
New ways to save
CoinOut's one of a kind partner market is founded on the principle of making your dollar go further. We constantly work to bring you new ideas for earning and saving.
Surprise bonuses
Constant improvement
Our team works around the clock to bring you new features and a better customer experience.
No Financial Information Needed
You never have to give us any financial information. We give you rewards, that's it!
Share and Earn
CoinOut's top class referral system lets you boost your earnings by sharing the word! Find your link in the app.
Collect badges and bonuses
Saving money is fun! Collect extra points and bonuses through CoinOut badges.
Follow CoinOut
Keep engaged with us on Facebook, Instagram and Twitter – we reward our active users!
Personal customization
You'll only see offers and features relevant to you! Don't like what you see? Let us know.
Daily clock
Each day the rewards and limits may change. Check-in daily to see what's new!
The Receipt
When you upload a receipt, you'll see a preview of the image – if all key information is visible you get instant credit.
Merchant Name
Date – within 2 weeks of purchase
All items purchased
Total spent
How do I earn cash back?
Find the "scan" button in the app and fit your receipt within the rectangle. Make sure all the key information is visible and submit!
How do I earn online?
How do I cash out?
You can choose from bank, gift card or PayPal! There's no minimum for bank and gift card, and a $20 minimum for PayPal.
What receipts do not earn cash back?
ATM or bank slips, Lotto Tickets, Credit Card slips (with no product items), Money Orders, Pictures of barcodes or QR codes, Coupons, Handwritten receipts."
APPLE USERS CLICK HERE and ANDROID USERS CLICK HERE for more and to get started making cash-back with CoinOut. You can also watch their explainer video here. For more jobs and gigs like these, check our Newest Jobs & Gigs page. May you be working from home soon!
PLEASE SHARE this post – turn your friends into Rat Race Rebels!