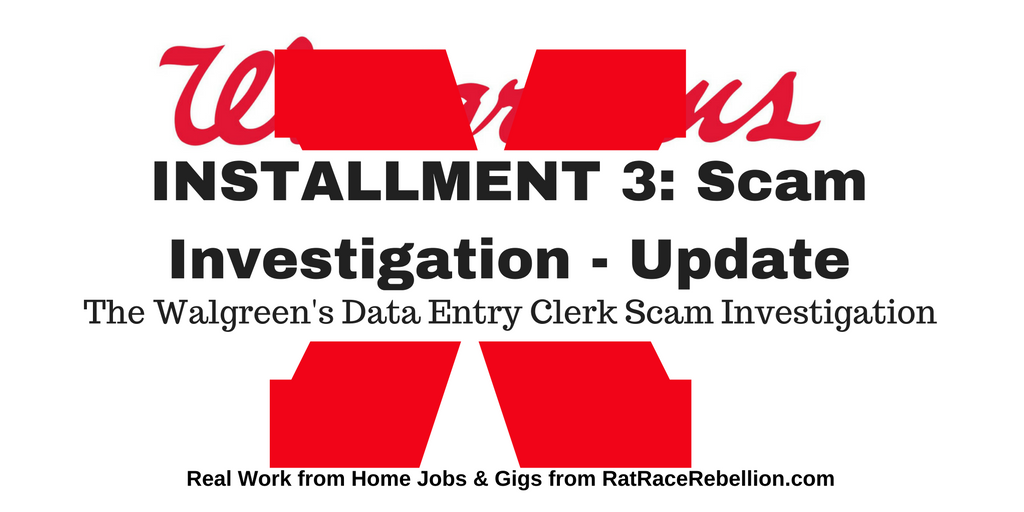 by Chris Durst     Sep. 25, 2016
When I left you on Friday, the scammer was fed up with me for giving him the run around, and had told me,"seems you don't want the Job. then we won't need to mail you the check again and another candidate will have to take your position. thanks"
That's right – I got the big kiss off! Done! Fired before I started… or was I?
You see, my dear Rebels, here's the thing about scammers. You can poke them with a stick all you want, and make excuses, and cause delays and they'll take it for a while. Then, they're going to get huffy and threaten not to give you their no-good-lousy-never existed in the first place-made-up job unless you send them some real money BUT, when it's all said and done, they are motivated by money – and will always give you another shot. 🙂
If you haven't read PART 1 and PART 2, you'll be a bit behind, but basically, they're trying to get me to send them money for "equipment" that I will be reimbursed for. I have been putting them off with a bunch of excuses — the most recent one being my mom was in a car accident (no worries, she was not – hi Mommy!).
This is the continuation of my Google Hangouts dialogue with the scammers. (My comments and observations are noted in [bracketed bold red] comments.):
HERE WE GO…
[So, since the last thing "Angel" did was basically tell me that I was out if I didn't pony up some cash pronto, so I intentionally left him (yes, "Mr. Chris" suspects Miss Angel is actually a man) hanging just to further push his greedy little buttons.
This Hangout chat is initiated by me on Saturday night at 7:41PM.]
---
ME: I am sorry. I had to go to the hospital after my mother's accident.
Did you say there is a new check on the way? I know that the FedEx did not come.
---
[4 minutes later]
Angel Henderson ([email protected])
you need to send the partial payment
why have you not done that?
You can still make the payment online now via the money gram website and send the Ref# with amount sent on here
do that now and the vendor will start working on the equipment, because if you don't make the partial payment now another candidate will be pay
ing the money and earn your position, you are causing delay and now showing any commitment
let me meet the money gram ref# on here ["meet" the money gram? Hello Money Gram, meet Angel the Scammer. Angel the Scammer, meet Money Gram. I'll leave you two to get acquainted.] with amount
sent and email receipt so that i can continue processing the Job for you,
if you are serious about the position am sure you would have made the payment, you could do that on your way back from the hospital and you didn't
you could have done it online all this while and you didn't [Aw. Cute little scammer tantrum. SCAMTRUM.]
---
[2 1/2 hours later… Angel rubbed me the wrong way, so I am letting him hang again and I have not responded to his previous message.]
Angel Henderson ([email protected])
so you are not really serious about the Job
---
Earn cash for surveys at GlobalTestMarket, another legitimate site for extra income.
---
[8 minutes later…]
Angel Henderson ([email protected])
even if we want to mail the check we will have to mail it today to be delivered at your home on Monday so if you can't make the partial payment now you are out of the Job [There he goes, threatening to give the non-job to someone else.]
---
[9 1/2 hours later, I decide to bait my hook again…]
ME: I have been staying at the hospital with my mother. She is badly injured. I will contact you on Monday morning. Thank you for your patience and understanding. I should have money then too.
---
[and 12 hours after baiting the hook, I drop it in the water and wait…]
ME: I am finally home from the hospital.
Good news. I talked to my uncle about my financial situation, and he blessed me with a $15,000 check! So, I will deposit tomorrow and, once it clears, I can move forward with you.
But I just saw your message. That you no longer want me. I am sorry for this.
Will you consider giving me another chance now that I have the $15,000 from my uncle?
It is Sunday, so I guess you are not here. Perhaps you can contact me tomorrow.
---
[5 SECONDS…]
Angel Henderson ([email protected])
Hello
I am available on here now
---
ME: Hello. Yes. I was sorry to see you no longer want me. I am sorry, but I slept on a cot in my mother's hospital room.
---
Angel Henderson ([email protected])
no problem [Completely blowing off the "get lost, b****" tone he had earlier. Can you imagine a real employer acting like this? We want you. No we don't. Wait, yes we do. Don't. You have money, okay, we do. We were just kidding. Really, it was just a joke. Get it.]
---
ME: You sounded very angry.
---
Angel Henderson ([email protected])
because you were not replying
you only need to talk with me
i understand your situation but you should have paid the 160 so the vendor could book the equipment and start working on it [I absolutely adore the way he has total disregard for time. His "vendor", who needed the money before he closed at 4PM on Friday, works all weekend, including evenings. Send the money NOW, the vendor will be there!]
---
ME: Yes, but I explained that my mother was in an accident.
Things happened so quickly. My mother was the ONLY thing on my mind, of course.
As I mentioned, my uncle gave me a check for $15,000 and I will deposit it tomorrow. So, if you can still use me, I will be able to send the $300 soon. [I know there is NO WAY he's going to take $300 if he thinks I have $15K at my disposal. Let's see how this unfolds.]
---
Angel Henderson ([email protected])
can you send the 160 now?
because the vendor expected that to be paid for the booking [Booking? Is it a hair appointment or a box of equipment?]
that is what they will use to book it
---
ME: I am afraid I can not. The money was used when I had my daughter buy some things to bring to the hospital for me.
That is why I asked my uncle for money.
---
Angel Henderson ([email protected])
too bad [Indeed it is.]
---
ME: But, the big check should clear in 2 days and I can send what you need.
I am a VERY good worker and you will be happy with my work.
---
Angel Henderson ([email protected])
you will have to pay the $4,100 straight to the vendor on Monday or latest Tuesday so that you can start training on Wednesday and get reimbursed for the 4,100 along with your first paycheck on Friday [BINGO! How fast can a scammer go? From 300 to 4,100 in 5 seconds!]
---
ME: Yes. Tuesday, I can do that. [Can't you just see it now? A room across the ocean, filled with scammers named Angel chatting with potential victims. Suddenly, my Angel, leaps from his chair shouting, "OMG! I just got a commitment for $4,100. US dollars! OMG OMG!"]
Paycheck Friday. I thought you were sending a check via UPS. Why Friday now?
I will be more comfortable sending money if I know there is a check on the way.
---
Angel Henderson ([email protected])
I'm sorry all other candidates has ordered the equipment by themselves [All other candidates have ordered by themselves? So, there was a problem with my FedEx check AND everybody else's check too? What a coincidink!]
---
ME: Especially such a large amount.
---
No car? Bad credit? You can still drive for Uber and earn up to $25/hr. or more. Here's how.
---
Angel Henderson ([email protected])
you have nothing to worry about because you will be receiving the equipment on Wednesday once payment is made on Monday or Tuesday and get reimbursed along with your first paycheck on Friday [Whew! I feel better now, Angel. As long as you say I have nothing to worry about, I feel safe. Sleep will come easily tonight.]
---
ME: Well, they are lucky to have a lot of money on hand. I am not that lucky until my uncle's check clears.
How will my paycheck be sent to me? I have not yet performed any work.
---
Angel Henderson ([email protected])
The management is reimbursing all the Team workers on Friday along with there first paycheck as they have used their own money to pay due to the FedEx delay
---
ME: I know I will have the cash to pay on Monday afternoon or Tuesday but, as I said, I do worry about not having a check on the way.
---
Angel Henderson ([email protected])
you will start training on Wednesday when you receive the equipment and get paid for the hours you train from Wednesday through Friday
---
ME: I just don't understand because the check that was coming to me via FedEx you canceled the delivery. So I worry that will happen again. Then I am stuck.
---
Angel Henderson ([email protected])
of-course  it's normal it happens with mail Company
---
ME: Oh, I called them and they told me that you canceled the delivery. So that worried me because I didn't know why.
---
Angel Henderson ([email protected])
that's why we will have to make direct deposit or Transfer to whom ever prefers that on Friday for their reimbursement and first compensation
---
ME: I see. Ok, so you will make a direct deposit on Friday to my account?
So I will get the money quickly.
---
Angel Henderson ([email protected])
the payment officer cancelled it because it couldn't meet up with the vendor schedule fedex made the delay happened, they should have schedule an earlier delivery for the check [LOL! Wow… just wow. If you read back, you'll see the whole FedEx story. Angel can't keep his story straight.]
yes of-course Mr, Chris [Still can't read that without laughing. "Mr Chris"]
---
ME: Ok. I don't think I filled out a direct deposit form with you.
---
Angel Henderson ([email protected])
yes you will be filling it on Wednesday once the equipment got delivered by fedex along with other needed papers
---
ME: OK
Ok, I will go to the bank in the morning to deposit the check for $15,000.
It should clear by Tuesday at the latest.
---
Angel Henderson ([email protected])
it will clear instantly [LOL! LOL! So let it be written, so let it be done! Angel has spoken.]
---
ME: Will I be needing to send extra money for anything? I would rather make only one payment, so if there is anything else, please tell me now.
No, he banks at a different bank. My bank may need 24 hours. They will notify me when it clears. I have done it with him before.
---
5 Legitimate Survey Sites That Pay Cash Signup Bonuses – Work from Home; review
---
Angel Henderson ([email protected])
there is nothing else please
no problem, go and make the deposit tomorrow morning and let me know the first amount your Bank makes available
they would make some funds available instantly and credit the remaining by the next day
---
ME: I will let you know as soon as the 4,100 clears
Oh, I see.
---
Angel Henderson ([email protected])
so you can send the one that will be firstly available tomorrow so that the vendor can start working on the equipment because of installation, that takes time [Smarmy guy wants me to send two payments – the first with whatever clears tomorrow morning, and a second one for the balance of the $4,100.]
---
ME: OK
---
Angel Henderson ([email protected])
Well, check-in with me on here by 8am your time tomorrow for further process and updates
---
ME: OK
---
Angel Henderson ([email protected])
may God give your Mother a good health and long life in prosperity [Seriously? Just wow.]
Thank you.
Angel Henderson ([email protected])
enjoy the rest of the weekend sir
---
ME: I will
---
Angel Henderson ([email protected])
stay blessed
---
ME: You as well.
STAY TUNED! MR. CHRIS IS NOT DONE WITH HER ANGEL YET!