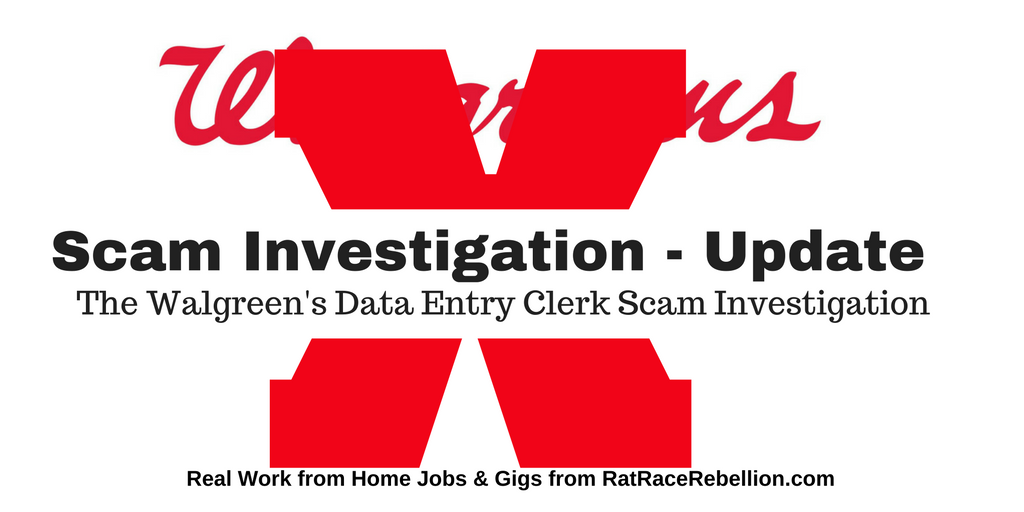 by Chris Durst     Sep. 20, 2016
As you may know, a scam slid under our radar on 9/19 and fortunately we caught it and were able to alert all of you before it could take hold. I asked those who received email from the scammers to please forward them to me so we could investigate further.
We will use this page to keep you updated on what we discover as we investigate the scam.
UPDATE – SEPT. 20, 2016
People who applied received the following "Job Interview" email (My comments are observations are noted in [bracketed bold red] comments.):
Dear Applicant.

The Hiring Department of ( Walgreens Boots Alliance, Inc. ) has received and reviewed your Resume recently submitted online for our Data Entry Clerk Job posting. Due to your Resume information and work ability the management has qualified you to be one of the eligible workers that will be joining our Team. There is an organized Training Program for hired Applicants and the position working hours are flexible, you can work as a Full-Time or Part-Time Employee, the PayScale is negotiable at $32.50/hour to $67.16/hour depending upon skill level. Medical and retirement benefits.  [(1) This is an extremely high rate of pay for data entry and (2) this is not the type of position in which pay negotiations are invited.]

Following our newest on-line screening introduced by Better Business Bureau, you are required to setup a google hangout account if you don't have or download one using this link ( https://hangouts.google.com/ ) after the process makes sure Mrs. Angel Henderson the HR Manager of the Company is added to your google hangout friend's list for the Job Interview and comprehensive Job details, her google hangouts ID is ( [email protected] ) This is our first step to proceed further she will be expecting to hear from you soon.

Kind regards

HR Department
( Walgreens Boots Alliance, Inc. )

NOTE: There are no Relocations in this Job!
So, I initiated a Hangout with the person at that email address. That conversation follows:
ME: Hello. I am looking forward to interviewing with you for the Data Entry Clerk position.
[email protected] ([email protected])
Hello
how are you ?
ME: I am well, thank you.
How do we proceed? Do I need to schedule a time to speak?
[email protected] ([email protected])
you need to be waiting for your messages and be fast in replying back to keep the smooth conversation between us, there are other candidates onlinethis is the newest online screening that makes things easy for every applicant, no needs for ups and down, you can easily access your applications and Hiring process, this helps Mothers with children at home and also gives room for working class applicant to participate as they might be at their current job, so with this process they will easily access their new Jobyou only need to type and send and pay attention to our discussion on here following all the instructions given to you on getting started, hope you're now ready for the online Job briefing and interview ?
ME: I'm ready!
[email protected] ([email protected])
be replying back with okay to let me know you've gotten and understands the messageI'm Mrs Angel Henderson. Hiring Manager at ( Walgreens Boots Alliance, Inc. ) attended Dean College. [I don't know that I have ever had an HR manager include their college as part of their introduction.] As a member of the HR Leadership team, develop HR goals and strategies to support corporate business initiatives
·HR Business Partner for Chief Operating Officer and Chief Legal Officer and their teams
-Develop, maintain, implement and strategically communicate HR policies corporate- wide
·Lead the incorporation, communication and education of new legislation and new policies
·Provide advice on the application of employment laws and regulations, as well as guidance on the interpretation and practice of company policies
·Accountable for maintaining a consistent approach to complex employee relations issues through coaching and consulting to a team of HR Professionals; make recommendations on course of action; track outcomes of final disciplinary stages up through termination[Wait.. what? Did this "HR manager" just give me her job description? What the heck is that all about?!]
ME: This looks like it is right in line with my skill set.
[email protected] ([email protected])
You are welcome to ( Walgreens Boots Alliance, Inc. ) As America's most convenient provider of consumer goods and services, and pharmacy, health and wellness services, Walgreens has something for everyone who wants to build a successful career. With over 7,500 locations in all 50 states and Puerto Rico, we¹re much more than your neighborhood drug store. We're a company of e-commerce professionals, analysts, nurses, pharmacists, retail store staff and more who are focused on serving our customers as much as finding better ways to run our business. Here, you'll find supportive co-workers, an innovative environment and the tools you need to grow your skills, help build healthy communities and advance your career.Walgreens Boots Alliance is the first global pharmacy-led, health and wellbeing enterprise. We have a presence in more than 25* countriesWalgreens Boots Alliance is a dynamic global Company and achieving our ambitious goals depends on the motivation and quality of our employees at every level. Our employees are a key asset and we recognize that our success is a result of their loyalty, passion and drive.[Bad spelling and grammar anyone? Plenty to go around!]
ME: Yes, I spent some time researching the company before applying. It is impressive. 

[Translation: Can you please get moving already?]



[email protected] ([email protected])
Our Organization Headquaters is located at 108 Wilmot Road
Deerfield, IL 60015. [ How cute. They actually took the time to look up the true address of the company they are pretending to be. Nice touch.] The Company is mainly into Healthcare and now going into Accounting, Data Entry, Clerical Admin, Customer Service and Medical Biller work from home job to create employment opportunity for the less privilege, disables and mainly to decrease the rate of unemployment in the economy.We are planning on setting up a branch at your location this is why we are currently seeking for 16 Teams workers to work from home at the moment and once the Branch is established at your location you can choose to work in an office or from home.
ME: I am very excited about this opportunity!
[email protected] ([email protected])
This Job is currently available strictly online and it's a work from home job where all the Data Entry work is been done remotely online the working hours are flexible and you can chose to work from anywhere of your choice, your compensation is $37 hourly [Huh. That's not what was stated in the email I just received.] while training is $19 per hour and will be get payment by every (Friday) of the week via deposit or paycheck working 40 to 45 hours weekly and overtime is available, if you are employed you are going to be working as a full employee and not an independent contractor.
ME: Understood. Thank you for clarifying.
[email protected] ([email protected])
You will undergo a one week training from your training supervisor, he will training you on how to work with the programs accurate and other work you will need to get done.Your training is going to be done online through your PC and Phone and when you are done the Company Rep that visit all new Employee Area will be coming over to your location to update you on how to start working fully.
NOTE: You can stay on training as long as you want till you're confident enough to start fullyYou will be paid by weekly ! Every ( Friday ) of the week.
What mean of payment would you prefer?Direct deposit or Paycheck and what Bank do you use as well ?
ME: Direct deposit to my Bank of America account would be preferred.
But if you don't work with them, I also have an account with a smaller bank.

[I didn't want to risk having them shy away from Bank of America, so I threw an extra bank in there for good measure.]



[email protected] ([email protected])
okay
ME: I am excited to get started. When would you like me to start?
[email protected] ([email protected])
asap this week [Of course you do. The scam will be out and they will have moved on within 2 weeks.]
ME: Wonderful! What do I need to do next?
[email protected] ([email protected])
Here are the name's of the software programs and other materials you will need to start working with: Myob business essentials software  2016,PeachTree, Netsuite, US  Patent Single Users Pack simply  accounting 2016,Norton  Ghost 9.0,Microsoft Office XP 2016  Standard Upgrade,Peach tree Premium Accounting 2016.Fast Internet Connection:
Apple Laptop:
LandLine Phone:
Laser Printer:
Fax machine:
Scanner:
Copier(large):
Laminating machine w/5 Cartridges:
Fellowes Micro-shred Confetti-cut paper shredder:
Work Cross-checker software:
The Management will be providing you with the funds which you will be using to make the purchase for the Mini-Office Equipment that you will be needing to start working from Home with.a Check will be mailed out to you which you will need to deposit via ATM into your Bank account and send the funds to the vendor once the funds are available for the order of your complete Mini-Office equipment. The amount of the check will be $4,100 to cover all the materials on the equipment. [Whoa! You don't know me and you are going to send me $4,100? How lovely of you!]
Note: You won't be required to pay the money back!the info that send the funds receives the equipment, that's why each candidate easily make the order themselves because there address would be showing on the vendor's receipt to receive the Equipment, the process is step by step, this stage you wait to receive the check and deposit it into your bank account and once the funds are available i will be providing you with the vendor's info that you will be sending the funds to for the order of the equipment and you will be starting training once equipment is received understood ?

[Here's the scam, we've seen it a thousand times. You receive the "bank check" which you deposit into your account. It will likely clear immediately if your teller doesn't spot it for counterfeit. You will immediately be instructed to purchase the necessary items and then, either one of two things will happen depending on the con. Either (1) the "vendor" is actually the con and when you place the order with your debit card, the money goes to them, or (2) the vendor is real, but the amount will be much less than $4,100 and you will be asked to wire the remaining funds back to the "hiring company" – aka, the con.

In either case, the check you receive will not clear, but that will likely go undiscovered until you have "purchased" the goods and/or sent money back to the company. Either way, any money you have spent or send will have come out of your own money and could leave you in debt with your bank.]
Me: Yes, I understand.
[email protected] ([email protected])
NOTE: Henceforth, you're to be reporting online on here by every 8-am your time for update and further process till you receive your Equipment and make your own schedule, update takes 15mins to 30mins at most and you are free until you're contacted again for the day. [They insist on daily contact so they can pressure you to deposit the check and get money to them ASAP. Any lag time means a greater chance you will learn that the check bounced before the scam is executed.] provide info on here now for confirmation, your Full names, home address City: State: Zipcode and cell # so that my secretary can put you on registered and the Vendor needs it for Shipment
ME: So, I will have to wait for the funds to clear before I can make the purchases though.

[Testing the waters with this one, just to see what they will say. They know, of course, that a well-counterfeited bank check will clear immediately and bounce several days later. More often than not, they will try to get you to deposit the check on a Thursday or Friday so that you and the bank lose the weekend days for processing and discovering the bad check.]



[email protected] ([email protected])
yes
Full names, home address City: State: Zipcode and cell #
ME: OK. Please mail the details to me at: Chris Durst, XXXXXX, Woodstock, CT 06281   Phone: 860-XXX-XXXX

[I provided them with my real name and address so I can see how the con plays out.]


I mean the details and the check, of course.
[email protected] ([email protected])
okay
ME: Thank you. So now I just wait and I will contact you here when I receive the packet?
[email protected] ([email protected])
yes
ME: Perfect. Thank you.
[email protected]gmail.com ([email protected])
are you seeking for part time or full time Job? [How weird is this! You just told me you're sending me a check, and NOW you start asking interview questions that a real HR manager might ask? Wow! Nice cover – very smooth and not suspicious at all :-).]
ME: Full time, but I will accept part time if FT is not available.
[email protected] ([email protected])
how would you describe yourself ?
ME: I am a quick learner who is highly motivated to succeed in any job I am given. I take pride in a job well done.
[email protected] ([email protected])
what are your career goals ?
ME: To secure a position that I can grow in and that will provide sufficient income for a comfortable life. 
[email protected] ([email protected])
good
Tell me about the most difficult or frustrating individual that you've ever had to work with, and how you managed to work with that person
ME: I had one co-worker who had he habit of talking endlessly. I ultimately had to sit her down and explain to her that I needed a quiet work environment in which to work. 
[email protected] ([email protected])
i see
how do you handle work under pressure ?
ME: Wonderfully! I am one of those people who actually thrives under pressure as I enjoy a challenge. 
[email protected] ([email protected])
nice
you will be updated on the check and when it will deliver at your home, just make sure you are available on here and reply back to your messages as you are receiving themit's very important for you to be available online and officially talk to me by every 8-am your time in the morning, likewise tomorrow morning, check-in with me by saying ( Good morning Mrs. Angel Henderson, this is Chris Durst checking-in for the day ) [You can see how insistent they are about staying in contact. This can make or break the scam for them.]
ME: Ok, I can do that. Thank you.
[email protected] ([email protected])
so that will be all for today, I will be emailing the Employment form that you will be filling out and signing to you by tomorrow morning once you check-in with me and don't be late,  looking forward to working with you
ME: Thank you. I will report in tomorrow morning!
[email protected] ([email protected])
welcome