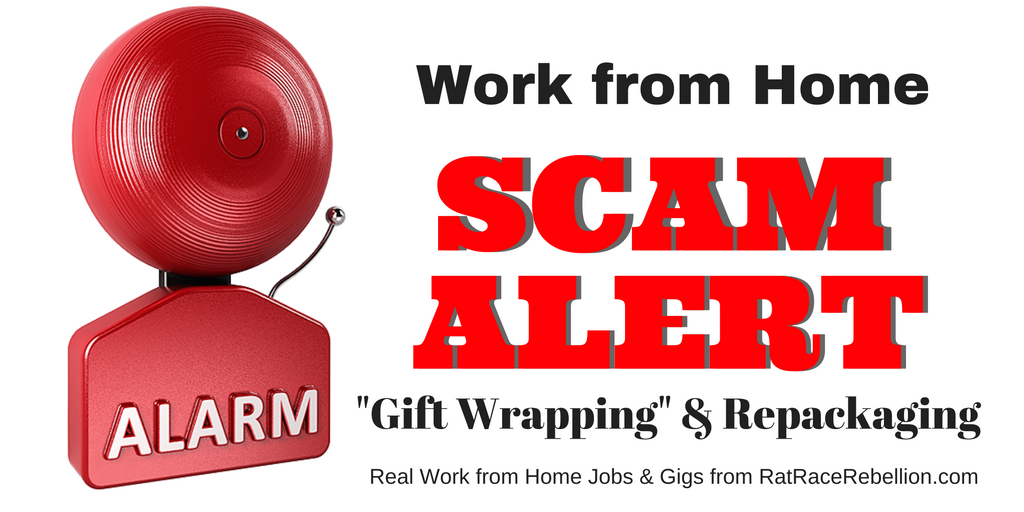 by Chris Durst     Oct. 11, 2016
Well, dear Rat Race Rebels, even though there are thousands of legitimate work from home jobs (as you've seen if you spend time on our site), there are still far too many con artists who want to scam their way into your wallets.
It's that time of year when we see a rise in the number of "GIFT WRAPPING" and "REPACKAGING" scams, and we want you to be aware of that they look like so you won't fall prey to their come-ons.
Here are two LIVE examples of scams going on right now. They are carefully designed to look legitimate. Please read through carefully and share this post with your friends and family so they will be aware as well.

The "Day & Lee" Gift Wrapping scam:
These folks have gone to great lengths to set up a site that looks legit. They even went so far as to put up an "Our Team" page with photos. The problem is, the photos were stolen from across the internet. For example, "Colin", the "Vice President, International," (International what, you might ask – to which I would answer, who knows?!) Well, we found "Colin" in the portfolio of a real photographer in Moscow, Russia.
Likewise, "Henry B. Wesley" is actually a pharmacist and university professor who, unbeknownst to him, had his photo lifted from the university website. (I'm shooting him an email to let him know that scammers rely on his trustworthy face to draw in victims.)
So, what's the scam?
Well, here's the "Job Description" (this will open Microsoft Word, don't be alarmed) being used by these scammers.
Looks pretty professional and the pay looks good too!
_______________
Screened Ad: Earn $3 per survey (15-20 minutes, average) at PineCone Research, another RRR survey pick.
_______________
Essentially, they want you to receive packages and sometimes even go to a retailer to pick up items they have purchased. Then, you will:
Unpack the items
Remove ALL paperwork – instructions, warranties, everything
Scan and send them receipts, and copies of all paperwork removed from the package
Pack the items in a different box and wrap in wrapping paper
Send the items to a specific overseas address
Any alarms going off? They should be!
The items you are receiving have been purchased with stolen credit cards and you, if you reship them, have just become involved in the distribution of stolen goods.
But that's not all – it's the scam that keeps on giving!
When you remove the paperwork and repackage for shipping, you are also defrauding customs since they items are being sent as "gifts" instead of purchased merchandise.
In a nutshell, your "job" is to commit a federal offense. Oh, and did I mention, you won't really get paid either?
_______________
Screened ad: No car? Bad credit? You can still drive for Uber and earn up to $25/hr. or more. Here's how.
_______________
The Freight Plus Reshipping Scam
Another that I just learned of yesterday from one of our Facebook fans who received a job offer from the scammers, is Freight Plus, LLC and here's their "job description."
As you can see, these folks even went so far as to include "Tax ID" numbers for the state of Illinois. Only problem is, they are made up – in our search of the Illinois business database, no such company (LLC) is registered with the state.
If you need further evidence that scammers have no scruples, you should note that the content of their website pages has been copied and pasted (read that, plagiarized) from the site of a fulfillment services company in Florida. (Compare the text on the the grey area at the bottom of the real page, with text in the grey area at the bottom of the scam page.)
If this scam looks a lot like the "Day & Lee" scam, that's because it is. Different scammers, same deal – minus the gift wrap.
NOT ALL RE-PACKAGING SCAMS WILL REQUIRE GIFT WRAPPING – THAT'S JUST A SPECIAL LITTLE SOMETHING YOUR MORE SENSITIVE SCAMMERS HAVE ADDED FOR A BIT OF CHARM.
The Freight Plus scammers even have video "testimonials" (or, in this case, testiPHONYals) from people who are doing this job. They are NOT REAL workers, nor are they the scammers. Unfortunately, scammers and others can BUY TESTIMONIAL VIDEOS on sites like Fiverr – click here and you'll see what I mean. I mean, click around that page and you'll actually hear people talking about how they can create a believable fake testimonial. (Too bad, because Fiverr is actually a great site for selling your legitimate skills, so don't discount the platform because of a few unscrupulous, will-lie-for-money types.)
So there you have it. Steer clear of these two and any others that carry the same or similar earmarks.
Stay safe, my friends!
PLEASE SHARE this post – turn your friends into Rat Race Rebels!
BE SURE TO CHECK OUT OUR OTHER RECENT POSTS FOR MORE JOBS